YES – Sorry, its true. The raspberry fields are closed for the Season.
Rasperry Picking Schedule and Tips to Get Great Raspberries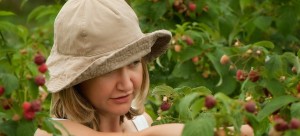 The raspberry season is quite late this year.  We have an abundant crop that's set on the canes, but the berries are ripening slower than expected.  Our plan is to open the 2013 raspberry season within the next week to 10 days (this is written on 8/19). We will update the website with our official opening date as well as send an email to all our followers.
The U-Pick hours will be the same as last year:
Tuesdays, Wednesdays and Thursdays from 9:00 AM to 12:00 Noon
Fridays, Saturdays and Sundays from 1:00 PM to 4:00 PM
Come to the Farm Stand to pick up your buckets and get information on picking. When you have picked all you want, return to the Farm Stand and we'll weigh and pack your berries. Our price for berries is $8 per pound, the same as last year — about $5 per pint.
A few tips for getting the best berries when picking:
Look for red berries that are still firm. A pink or white berry is not yet ready. A dark berry that is soft – maybe a bit wet – and comes off the stub too easily is past its prime.
A good test is to look at the stub the berry grows on. If it is dark pink with berry juice the berry is overripe. We will have examples and further information at the Farm Stand.
If you're interested in volunteering during raspberry season we could use your help in the Farm Stand greeting visitors, assisting with weighting berries, and generally keeping the operation running smoothly. For more information visit our Raspberry Volunteer page.