Each year we sell Organic seedlings during the spring season to help you start your gardens off on the right foot and this year is no different. We are selling seedlings from March 9th until May 1st on a PRE-SALE basis. (Order now here and we will have them ready for you the first week of May).
After May 1 you may buy seedlings as we have them available. You can order them here and pickup during our Farm-to-Go pickup windows. Happy gardening and we'll see you soon!
1. Create or log into your account via our Farm to Go™ store.

If you haven't used Farm to Go yet, you will need to create a new account.
If you currently shop through Farm to Go, you are all set! Just log into your account when sign-ups open.
2. Choose "Seedling Pre-Sale" as your shopping period
3. Select the Seedling(s) and quantities you'd like, and make sure to click "confirm order." You should receive an email confirming your order by the end of the week with more information on how to sign-up for a pickup day in May.
4. Payment will be processed on the Sunday after you've placed your order.
5. Pre-Sale Seedlings (ordered between 3/9/21 and 5/1/21) will be picked up the first week in May.
SNAP customers can use their funds to purchase seedlings
The week of your pickup, we will send you a reminder email with more details on how to conduct your pickup safely and easily.
Start Gardening!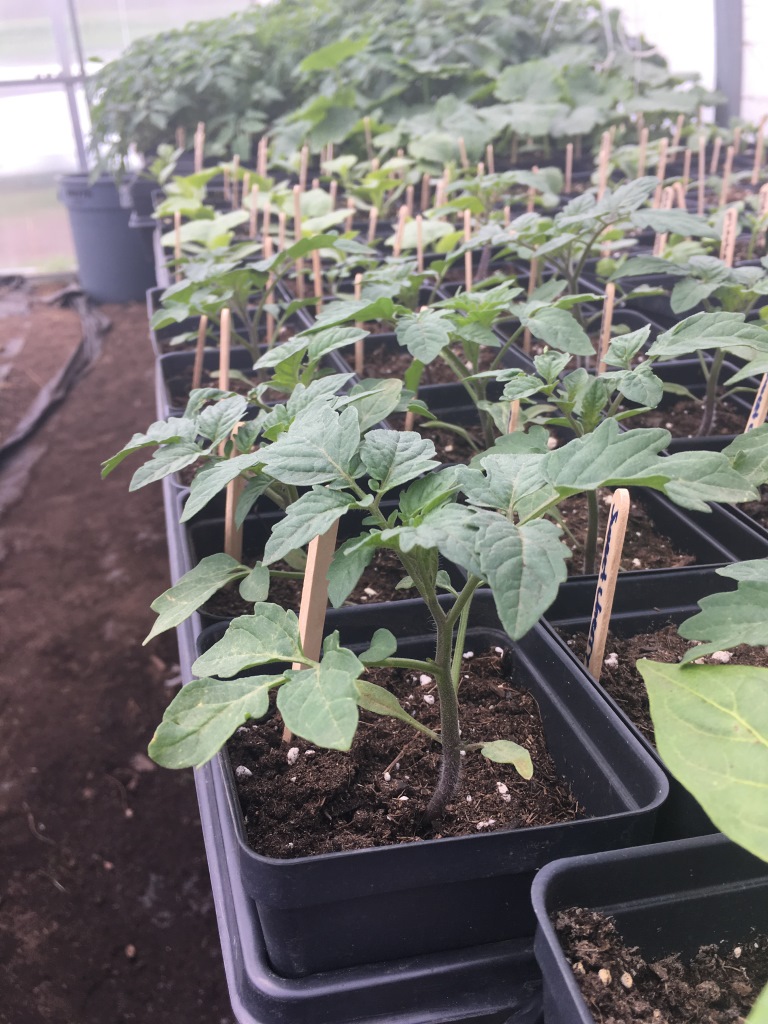 What is available in our online store?
Pre-sale Items:
(all in 4″ compostable Organic pots unless noted)
Greens

Collard Greens
Lacinato Kale
Red Curly Kale
Red Russian Kale
Swiss Chard
Mixed Lettuce (4 pack)
Spinach (4 Pack)

Herbs (all herbs in 4 packs)

Dill
Cilantro
Parsley
Basil
Cutting Celery
Mixed Herb 4 Pack (basil, dill, cilantro, & parsley)

Cherry Tomatoes

Sweetie variety
Sungold variety
Black Cherry variety
Lemon Drop variety
Lucky Tiger Variety
Sunpeach variety
Indigo Cherry Drops variety

Hybrid Slicing Tomatoes

Mountain Fresh Plus variety
Premio variety
Skyway variety
Damsel variety

Heirloom Tomatoes

Carbon variety
Eva Purple Ball variety
Garden Peach variety
Red Zebra variety
Green Zebra variety
Valencia variety

Husk or Ground Cherries
Tomatillos
Bell and Sweet Peppers

Ace bell variety
Iko Iko bell variety
Cubanelle sweet variety
Banana sweet variety
Shishito sweet variety

Hot Peppers

Cayenne variety
Poblano variety
Jalapeno variety

Eggplant

Fairytale variety
Bell (Italian) variety
Asian variety

Summer Squash

Zucchini
Zephyr variety yellow crookneck

Cucumbers

Pickling variety
Slicing variety

Mixed Beet 4 pack (red, Chioggia & golden)
Melons
Green Bush Beans (4 pack)
Glass Gem popcorn (comes as 2 pots)
Flowers (4 packs)

Mixed Zinnias
Mixed Snapdragons