As we spend more time at home, it's more important than ever to get outside! To continue your outdoor education and exploration, the Wright-Locke Farm Education team has compiled some great resources and activities you can do in your local outdoor space.
In this section, Farm educators will add mini-lessons and anecdotes focused around outdoor education. These "tidbits" are meant to inspire your own curiosity while sharing some interesting parts of the outdoors! Be sure to check the dropdown below for past entries as well.
Farm Snack!
In most of our education programs on the farm, we use farm-fresh ingredients to prepare a daily "farm snack"! One of my favorite snacks is egg frittatas. While I'm not at Wright-Locke Farm now, I do have access to farm-fresh eggs, so I gave this recipe a try at home (check the video out here!)
This recipe is really simple and great for all ages to help with! If your family decides to make this, I encourage you to consider a couple questions with your little one(s):
Where did your eggs come from?
Do all chickens lay eggs?
How can you tell a rooster from a hen?
If you add veggies or herbs, what part of the plant is it? (Fruit, seed, leaf, etc.)
What kind of animal did your cheese come from?
To see how I made this recipe, check out the video here. Give this recipe a try and let me know how it goes!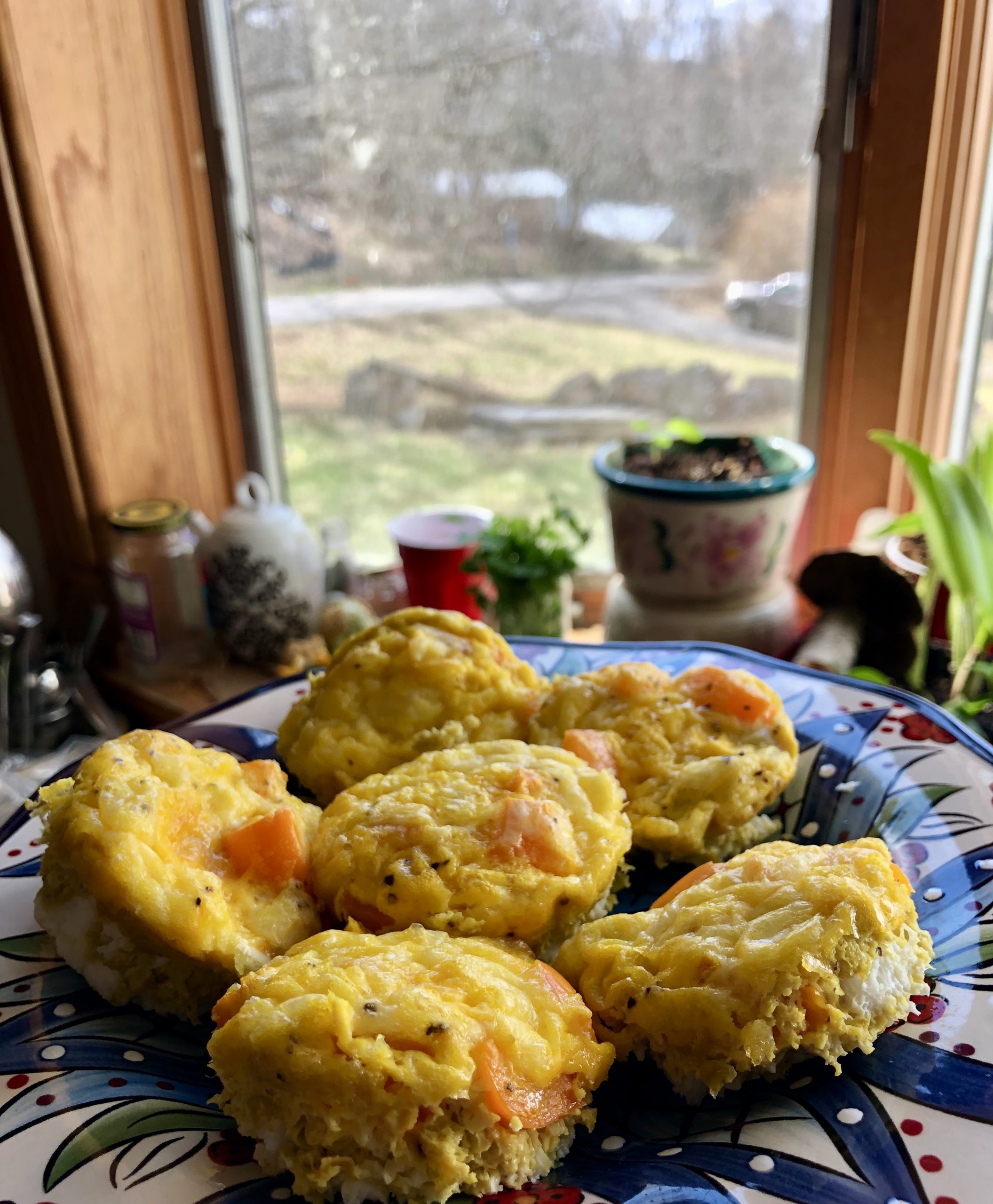 Earlier this week, when I was walking through some open fields, I noticed the bright colors of this curled up millipede. I bent down to get a closer look and noticed the millipede's vibrant orange pattern–a common warning to predators that this creature is toxic. For this reason, I was careful not to handle this millipede with my hands. After taking a couple photos, I returned inside and did a quick search online to identify this millipede as Apheloria virginiensis, a common millipede in the Northeast US. 
I was glad that I didn't try to pick this millipede up! As I suspected, this species of millipede does have a self-defense mechanism–when handled (or eaten), these millipedes produce hydrogen cyanide, a toxic gas. While the gas would probably not cause significant harm to a human, it's certainly enough to deter a bird or frog that may try to eat it!
I was excited to find something out of the ordinary, and even more engaged as I learned about this specific species of millipede. I encourage you to head outside and take a look around. See if you can sense anything (seeing, hearing, and smelling) that you haven't noticed before–and let me know what you find!
Happy adventuring,
Jack