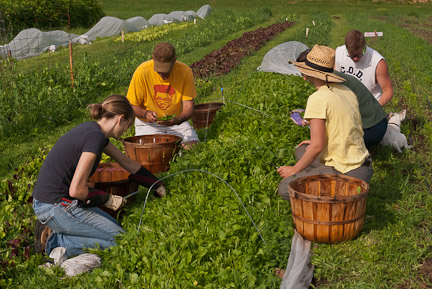 We have no shortage of volunteer opportunities on the Farm, and so we warmly encourage people to donate some of their time and energy to our organization. We will surely be able to connect you with projects that suit your interests, abilities, and schedule. No matter what the task, you'll likely meet new people, learn new skills, and gain a heightened appreciation for food and farms. Please see our current volunteer opportunities below (please note that most opportunities are seasonal). No experience is necessary as instruction will be provided. If you want to help with a particular opportunity, send us an email and we will connect you with the appropriate person to further explore how you could help. In your email, be sure to include the opportunity for which you'd like to provide assistance (i.e. "I want to help care for the chickens").
FARM VOLUNTEER OPPORTUNITIES
Volunteers must be age 14 or older for most volunteer opportunities. Most opportunities are available sometime between April – October only.
AGRICULTURE
Help our field crew (April – October): tasks throughout the season include helping plant seeds in the greenhouse or field, transplanting, weeding, and harvesting crops sold in our farm stand, at markets, for our flower CSA, and more. One time and recurring opportunities available (Tuesday – Saturdays only). Email our Farmer to let her know you're interested in helping out.
Help our flower crew (March – October): tasks throughout the season include helping seed, plant, water, weed, maintain fields, harvest and a variety of other flower tasks; go to our Flower Volunteer page for more info.
Help run our Farm Stand (May – October): assistance is needed in the spring, summer, and fall. First read about the Farm Stand volunteer's responsibilities while tending the stand before contacting our farm stand manager to learn more.
Help our U-Pick Raspberry crew (late August – mid October): tasks include teaching customers how to pick, weighing berries and collecting payment, and more; go to our Raspberry Volunteer page for more info.
Land Management (April – November): assist our staff and Board with mowing grass, trimming hedges, clearing brush, raking leaves, and more around the fields and pastures.
Ornamental Gardening (May – September): assist our staff and Board with ornamental gardening around the farmhouse, farm stand, and 1827 Barn.
FARM ANIMALS
Help take care of our chickens (year – round): help our "chicken chore" volunteer group perform daily tasks for our flock, including bringing food and water, collecting, cleaning, and tallying eggs, and more. For more information or to sign up to for chicken chores, please e-mail our Community Engagement Manager, Kim Kneeland.
Help take care of our goats and farm cat (late December – February): help our farm staff perform morning feed chores for our goats and cat this winter while the farmer is on break; sign up is day-to-day (very flexible) and requires just morning chores like bringing food and water to the animals.
EDUCATION
(local middle and high school student volunteers wanted)
EVENTS
Help our events staff with special events (April – October): assist with the preparation or facilitation of the farm's special events; volunteers are scheduled to help with a specific event or series of events (i.e. Family Farm Nights hosted June-July).
FUNDRAISING AND OUTREACH
Help our staff with fundraising and outreach to local communities (year – round): specific projects and recurring opportunities available.
Don't see an opportunity that suits you? Send us an email describing how you think your energies might benefit the farm. Special projects relevant to our work are always up for consideration!