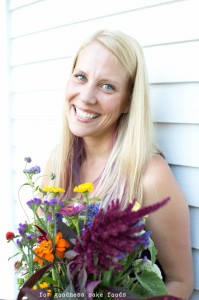 Join us occasional Wednesdays this summer as Chef Mel Carden of for goodness sake foods dishes out her farm-inspired homestyle dinners at our Farm Stand.
WHAT: Each meal will have a different menu (entree, side & dessert).
WHEN: There are 2 seatings each night — 6 pm & 6:30 pm
WHERE: Food is served in the Farm Stand. Enjoy your meal on the patio, or at our picnic tables.
EXTRAS: We will be selling Hibiscus iced tea, black iced tea, and lemonade by the glass ($2 each); water is complimentary. This is a non-alcoholic event; no BYOB.
Upcoming Paper Plate Supper Dates:  July 19, August 16 & September 20
What you need to do:
Register! Click on a date & time to buy your tickets
Pickup Your Meal! Come to the Farm Stand at your seating time (please be on time!). Pick up your meal, buy a drink, meet Chef Mel.
Enjoy! Head to the Farm Stand patio, or a picnic table to enjoy your meal.
Meals are $25 per person (includes entree, side & dessert). Kids are definitely welcome but we don't have a children's menu or discount.
Drinks are $2
Daily Specials: we often have other goodies available for sale at the Supper!
* * * * *
Allergy questions? Please contact Chef Mel directly at cookingcarden@gmail.com. She can answer questions and has a great deal of experience with food allergies & intolerances. She will do her best to make accommodations & recommendations.
Paper Plate Menus
July 19
Farm Stand Tasting Menu!

Choice of Grilled Farmer's Sausage or hot dog from Walden Meats

Grilled Wright-Locke Herb Squash

Crusty Bread with Dove & Figs Jam & local Cheeses

Sample of Walden Meats to-die-for summer sausage!!

Simple Salad

Dessert:

 fresh strawberries and lavender-infused whipped cream
August 16
September 20