Our popular Farm-to-Table Suppers have returned!
Sign up for our Newsletter to stay up to date on all the delicious food coming out of the Farm Kitchen
Chef Kelcy officially welcomes you to the farm for one of her farm-to-table suppers. These meals feature produce from WLF and surrounding Farms to bring the bounty of New England to your plate.
So Long Summer Supper with Chef Kelcy, Thursday 9/22
6:30 pm to 8:30 PM
Join Chef Kelcy on the farm this Fall Equinox for a delicious meal celebrating the end of summer and transitioning us into the fall season. Menu will feature locally sourced ingredients celebrating the seasons and bounty of New England farms.
On the Menu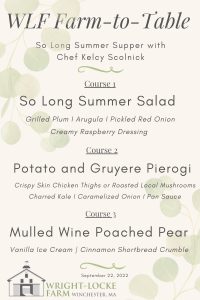 So Long Summer Salad
Grilled Plum I Arugula I Pickled Red Onion
Creamy Raspberry Dressing
Potato and Gruyere Pierogi
Crispy Skin Chicken Thighs or Roasted Local Mushrooms
Charred Kale I Caramelized Onion I Pan Sauce
Mulled Wine Poached Pear
Vanilla Ice cream | Cinnamon Shortbread Crumble
Please note
this meal is NOT vegan-friendly and will NOT have a dairy-free option.
this meal contains Mushrooms.
meal has a Gluten-Free option
Please select the meat or vegetarian meal at checkout and let us know about any food allergies! 
To purchase tickets, click here
Upcoming Dinner Dates
More farm food events coming soon!
Upcoming Guest Suppers
Wright-Locke Farm Presents: A Haitian Inspired Farm Supper with Chef Chris Viaud
We are thrilled to welcome James Beard nominated Chef Chris Viaud to the farm for a Farm-to-Table supper. Known for his incredible farm-to-table cuisine, Chef Viaud will draw inspiration from his Haitian roots for this delicious dining experience. Featuring some of his family's recipes with a modern twist, we invite all of you to join us on a special culinary adventure on the farm!
Chef Chris Viaud is the Chef/Owner of Greenleaf and Ansanm located in Milford New Hampshire.  
Three-Course Plated Dinner Menu
Course 1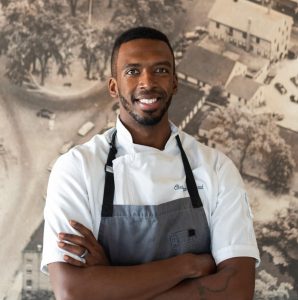 Beef & Mushroom Pithivier (savory pastry)
Watercress | Tomato | Red Onion | Avocado
Course 2
Poule Nan Sos
Stewed Chicken in Creole Sauce | Rice & Beans | Plantains | Pikliz
Course 3
Pineapple Upside Down Cake
Toasted Almond | Raisin Jam | Coconut Gel | Quatre Épices Ice Cream
*each course has a vegetarian option 

Please note, that this is a fundraising dinner for the farm, all profits will go directly toward the  farm.
For more information and tickets, click here!
Wright-Locke Farm Presents: Holi Inspired Farm Supper with Keith Sarasin
We welcomed Keith Sarasin for a special Holi-Inspired Farm to Table Supper!
On the Men
Massor Dal Hummus
Rice Crackers – Kashmiri Chili Oil – Mango Salt
Scallop Bhel
New England Scallops – Ghee – Bhel Puri – Chutney – Mango Sphere
Duck Chettinad
Coconut Rice – Pickled Chilies – Curry Leaves
*vegetarian option: Chettinade Paneer
Masala Chai
Spiced Cream Cheese – Ginger Cake – Cardamom Caramel
Wright-Locke Farm Presents: An evening with local master craftsman Chef Kim Lambrechts of A Borrowed Chef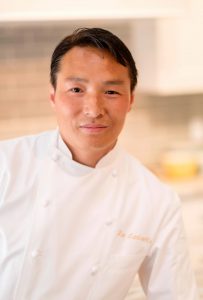 Chef Kim Lambrechts, owner and head chef of A Borrowed Chef, joined us at Wright-Locke Farm for a very special Farm to Table Supper.
Three-Course Plated Dinner Menu
Maine Jonah Crab Cake, Rocket & Watercress Salad, Shaved Fennel & Radishes, Lime Vinaigrette, Basil & Spring Onion Aioli Vegan Substitute: Black Bean & Toasted Quinoa Cake
Middle Eastern Spiced Crispy Free-Range Chicken, Young Potato & Leek Fondue, Apple Wood-Smoked Bacon Wrapped Asparagus Bundle
Rhubarb Creme Brulee, Minted Strawberry Salad
COVID Policy
If you are not feeling well or have any COVID symptoms, we ask that you please stay home!  You can give the ticket to a friend or family member, or we are happy to pack up your meal to pick up the next day.
Thank you for helping to keep our community safe.
Please reach out to our Farm Chef Kelcy as well with any questions or concerns you may have.
Allergy/ Dietary Restrictions Information
We take food allergies very seriously at the farm and want to make sure our customers have a delicious and safe experience. You will be prompted to fill in allergy information upon purchase of the tickets.
Vegetarian meals are available upon advanced request. You will have the option of selecting the vegetarian meal at time of ticket purchase.
Please reach out to our Farm Chef Kelcy as well with any questions or concerns you may have.
The Nitty-Gritty Details
We will be eating i

nside the new All Seasons Barn or on the patio if the weather allows

Suppers start promptly at 6:30 & end by 8:30pm

There is a cash bar available for drink purchase

Tickets are not transferrable between suppers. Schedule changed and can't come? Feel free to send a friend in your place!

Don't feel well? Please stay home! Let us know and we will gladly refund your ticket.

Farm Suppers will be served at small 6-8 person tables. If there are more than 8 people in your group, please contact our Farm Chef in advance.

If you wish to be seated with friends, please arrive promptly at 6:30 or let our Farm Chef know in advance. Late guests will be seated at the management's discretion.
Please reach out to our Farm Chef Kelcy as well with any questions or concerns you may have.
Meet Our Farm Chef, Kelcy!
Hello Everyone! It is with great pleasure and honor that I introduce myself as the Farm Chef and Kitchen Manager for the Wright-Locke Farm All Seasons Barn! I am so grateful to be apart of this amazing farm and working with some seriously passionate people.
One of the best parts of working at a farm is thinking about delicious ways to eat the food we grow and sell! Click here for some of our favorites. Let us know what you think!
You never know where a coffee shop conversation will take you. 
This past weekend I was enjoying some coffee when a woman came by to pet my pup, Lilly. We started talking and, no surprise, the conversation turned to food and culture. Born in India, Soumita was quick to start talking about the food of her country and as soon as I shared with her that I was planning on making Saag Paneer that evening for dinner, she lit up! We started discussing cooking methods, how to make different Indian breads and then moved on to the subject of the paneer. For those who don't know, Paneer is an Indian cheese that has a very low melting point and is perfect for soaking up all the yummy flavors of whatever sauce you throw it in. Soumita was kind enough to share with me the perfect method for making sure your paneer is the best it can possibly be; soak the paneer in warm salt water for 5-7 minutes to soften it up and then give it a quick fry to caramelize the sugars before tossing it into your sauce. It is sure to absorb the flavors that much more and, in her own words, "everything comes back to life in water."  I, for one, am super excited to try out this new cooking method and am so grateful to Soumita for sharing her wisdom. 
Happy cooking friends! 
~ Chef Kelcy 
This past week I had the pleasure of hosting the first in-house farm supper at Wright-Locke Farm;
it was one of the highlights of my life! I have always dreamt of hosting a large farm dinner and each aspect of it lived up to that dream. I worked with 10 different local farmers and suppliers (including our own farm and farm-to-go) and the love and passion all these people feel for the food and products they provide can be tasted in every single bite. I was able to feed 31 guests a delicious 3 course meal and knew that everything they were eating was not only delicious, but also supported the mission of local farms and eating in season. Plus, I finally got to see what 10 cups of dry Arborio rice looks like once it's all cooked up, a MASSIVE amount that still shocks me. All along I felt a sense of gratitude for being in this space and having the ability to follow my dreams. If you didn't get a chance to try it out yourself, have no fear, more dinners are on the way!
Happy cooking friends!
~ Chef Kelcy
Fall programming is up and running at the farm and so is the kitchen!
I've been making snacks for our pre-school program, and am SO excited to be feeding our little explorers healthy and seasonal snacks! Vegan carrot cake cookies were a huge hit, and delicious raspberry bars with our own WLF raspberries! I would love to hear from all of you about some favorite snacks you feed your family. Feel free to share recipes and ideas with me at
farmchef@wlfarm.org
Stay tuned for more information on cooking classes coming out of the Farm Kitchen.
Happy cooking friends! ~ Chef Kelcy