Wright-Locke Farm's youth education programs offer children a unique, hands-on experience learning about farming and the natural world on our historic working farm. For each child, we aim to inspire curiosity about the natural world, foster a sense of comfort in the outdoors, and develop a sense of respect for living things. All of our programs include lessons and activities related to agriculture and the environment using our fields, pastures, barns, woods, and farm animals as a living classroom. Specific subjects include Wright-Locke farm animals (goats, chickens, honey bees), farm operations, outdoor exploration, and plant growth.
We have instituted tiered pricing for all of our youth programs. Please choose the price that works best for your family–regardless of which tier you select, everyone enjoys the same program! If you are able, please select Tier A or Tier B while registering to make tiered pricing possible.
Interested in a group visit or enrichment program? Please email us at FarmEd@WLFarm.org!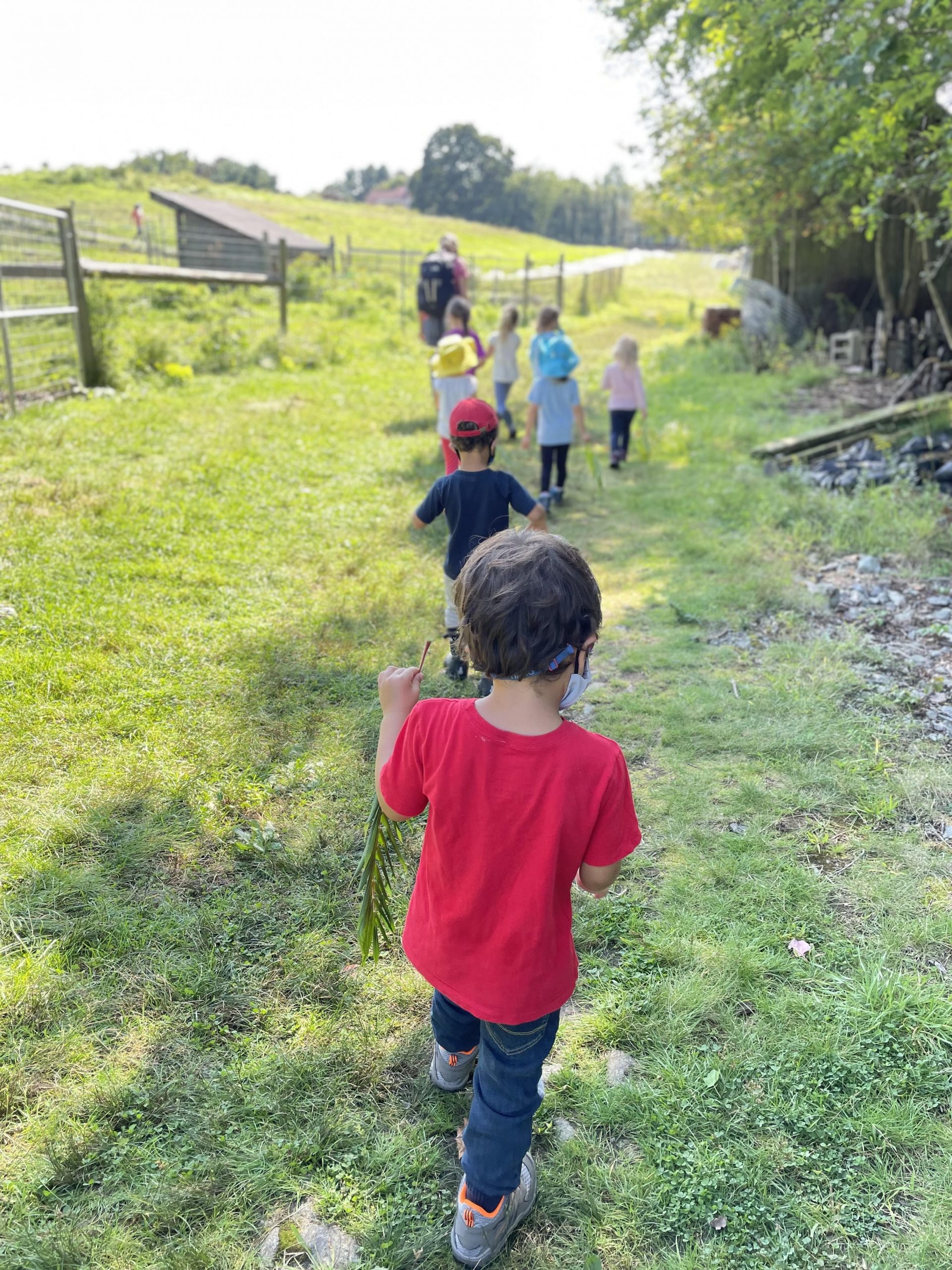 Please use this link to log in or create an account in our system.
Last year we transitioned to a new system! 
If you had an account in our previous registration system:
Select "Forgot your login information?" and check "I need to reset my password." Choose your preferred way of resetting your password (text or email). On the next screen, your username is the email that is associated with our previous registration system. If you have issues resetting your password, please email FarmEd@WLFarm.org
If you did not have an account in our previous system:
Select "New User." Complete the subsequent forms to create your account.
Once you have logged in and created an account you will be able to browse our available sessions! 
If you encounter any issues, please contact our Youth Programs Manager with any questions.
Payment & Refund Policy:
Online payments can be made via the following credit cards: Visa, MasterCard, Discover
Payment for a youth program, made by credit card, check, or cash, must be submitted at least 30 days in advance of the program's start date. Failure to comply may result in the loss of your child's spot in the program for which payment is owed.
Tuition refunds are guaranteed up to 30 days prior to the start date of a program minus a $10 administrative fee. Cancellations within the 30 days prior to the program are nonrefundable if the child's spot cannot be filled. (If the spot can be filled, a 50% refund minus the $10 administrative fee will be given.)
There will be no tuition refunds for cancellations made after a program has begun.
No full or partial tuition refund or credit will be given for a child's failure to attend any part of a program for which they are registered.
We will make every effort to adapt programs to the weather or reschedule if possible. In the event that we must cancel a program due to weather and we are unable to reschedule, the program tuition is nonrefundable.
Updated January 5, 2023.
Photo & Video Policy:
The Conservancy may take photos and digital video footage of activities throughout the educational program season for record keeping and publicity purposes. Participant names are never used in connection with these photos or videos.
Liability Statement (Permission for the Conservancy to handle emergencies):
I realize injuries can occur from participation in Farm programs. I hereby waive, release, absolve, indemnify, and agree to hold harmless the Wright-Locke Farm Conservancy, Inc., their Board of Directors, instructors, or assignees, and the Town of Winchester from any claim arising out of injury to my child or myself. Should my child be taken to the hospital for emergency purposes, I hereby grant permission to the attending physician and staff to administer anesthesia, medical, X-ray, and surgical procedures as may be deemed necessary or advisable. I understand that every attempt will be made to contact me in an emergency.
As part of Wright-Locke Farm's goal to become a more diverse, equitable, and inclusive organization, we have instituted tiered pricing across all of our youth education programming. This allows families to choose the price that works best for them, reducing the cost-barrier to our programs. The tiers are calculated as follows:
Tier A: 50% above the standard cost
Tier B: 15% above the standard cost
Tier C: The standard cost (what we normally charge for each participant)
Tier D: 25% below the standard cost
Tier E: 50% below the standard cost
Please select the price that is best for your family. If you are able, please consider selecting Tier A or Tier B prices. Families that register at these prices help support other children's participation in our programs.
In addition to our tiered prices, limited financial assistance is available for all farm education programs. To request additional assistance, please email FarmEd@WLFarm.org.
April Break 2023
4/18 – 4/21
We will not be having class on Monday 4/17
Registration is open
Please make sure you have set up your account before registration opens. Instructions are included under "Youth Registration Instructions" above. Please use this link to log in and register.
Let's get outside for April Break! We will learn the signs of the season, explore adjacent Whipple Hill, care for our goats and chickens, and watch the farm come to life. These programs aim to facilitate a connection with the outdoors no matter the season, develop a love of learning, and foster curiosity. Tiered pricing available ($60 – $180).
4/18-4/21
9am – 12pm
During school vacation week, we'll explore the world through the camera's lens together.  In this class, we'll use fun activities to learn about creative camera settings, composition, lighting and shadows, and posing using Wright-Locke Farm as a background. We will also spend time exploring and learning about the environment around us. 
We'll do some fun 'trick' photography, portraits, documentary style photography and talk about the fundamentals of image creation using an exercise with cyanotype fabric.  We'll spend time exploring Wright Locke Farm as part of our documentary lesson and use the farm animals as our subjects.
Requirements : A digital camera is required, this can be a dslr, point and shoot or even a mobile phone camera.
4/18-4/21
1pm – 4pm
Spring 2023
Session 1: 3/6 – 4/14
Session 2: 4/24 – 6/5
Registration for

both

sessions is open 
Summer 2023
Registration is now open
Please make sure that you have created an account in our system and that all information is accurate before our registration date. Please use this link to log in and update your information.
This is a half day program
Please limit registrations to two weeks to allow more folks to join our programming. If we have space available on 4/1 we will allow additional weeks of programing. 
Frequently Asked Questions
We're Hiring! 
Interested in working with us this year? We are now hiring educators for our 2023 Spring and Summer season! Email eallen@wlfarm.org with a resume and cover letter if you are interested in applying or have any questions about joining our staff.  
Financial Assistance
In addition to our tiered prices, limited financial assistance is available for all farm education programs. To request additional assistance, please email FarmEd@WLFarm.org.
Group Visits & Enrichment Programs
Are you interested in having your class, group, or organization come to Wright-Locke Farm for an education or volunteer-oriented visit? Or would you like the Farm to come to your school or group for an in-house enrichment program? Please contact our Enrichment Coordinator, Lauren Winterer, to book a future farm visit or enrichment program.
Please note that we typically host farm visits April through October, on Mondays and Wednesdays during school hours, but we do operate for the full 12-month year. If Mondays/Wednesdays do not work for your program, please let us know and we can work with accommodating your schedule.
Off-farm, year-round enrichment programs can be hosted at your location as our schedule allows.
Pricing and scheduling can be individualized to your school's or program's needs.