Farm-to-Go
Want a break from cooking? What to change up the the weekly meal routine? Want to support local?
In an effort to provide healthy, fresh, pre-prepared meals for the community, support the Farm while our normal revenue sources are greatly reduced, and help a bunch of other great local businesses, we bring you Farm-to-Go Meals! It's a fun weekly meal ordering option, meant to be simple for you and for us, and a great way to help add some variety to your take-out and home cooked dinner options while supporting local. We're working with: Essex Catering, Mamadou's Bakery, Drew's Stews, Red' Best Seafood, Source Bakery, Fat Moon Mushrooms, Julie's Happy Hens, Chase Hill Farm, Red Fire Farm, and OMG! Bakery.
Order by Wednesday night each week for a Friday afternoon/evening pick-up. Come for a walk around the farm, then grab dinner on your way back home! Check out the menu here.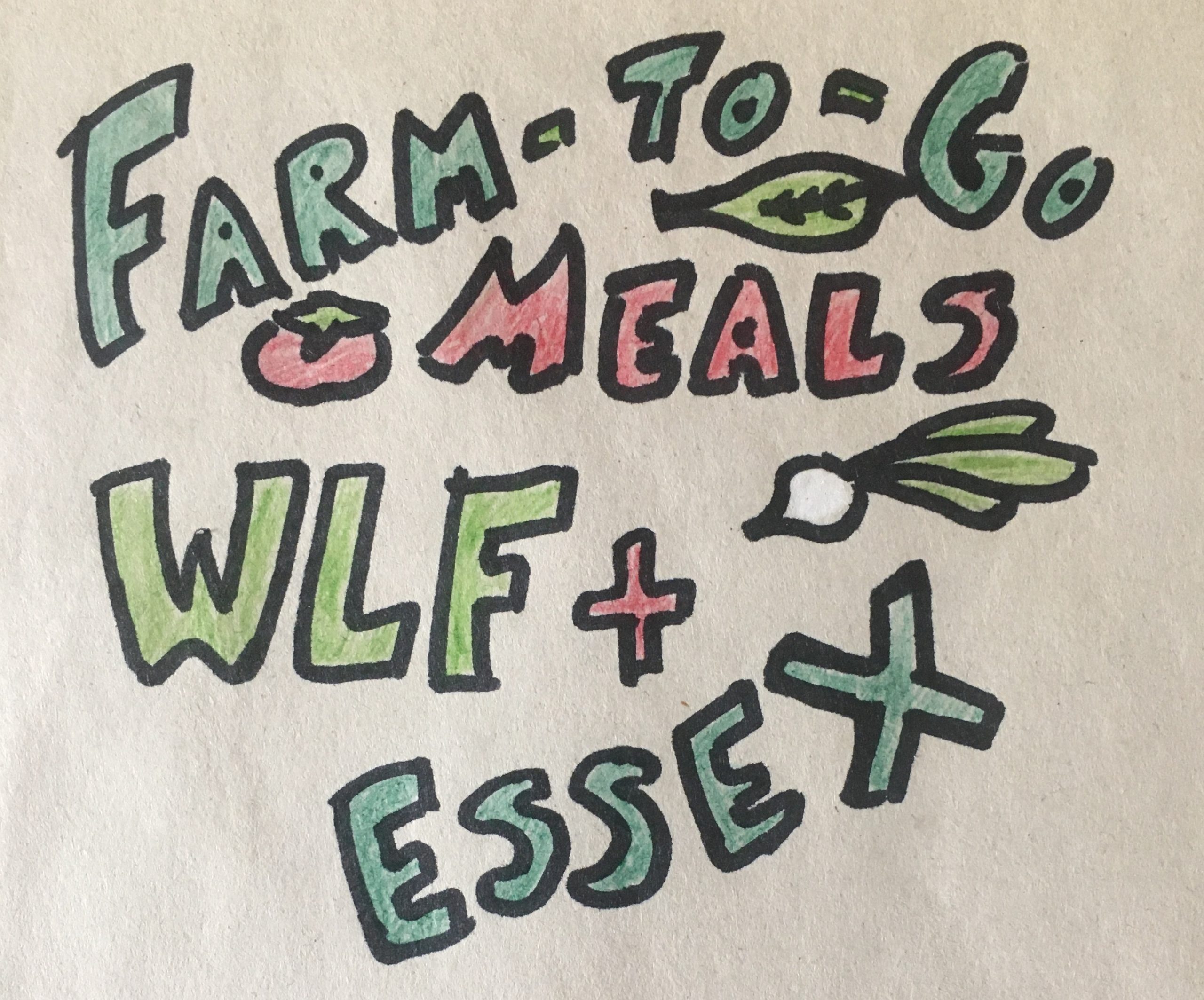 How does it work?
Check out our menu options and make your order by midnight on Wednesday for our Friday pickup (3:00 – 6:30pm).
Payment is made online (we're not accepting cash or checks at the moment.)
The order window for each week is until Wednesday midnight. If you order on Thursday, for example, your meal will be logged and prepared for the following Friday (Note: if this is the case, please disregard the automated square message that says "Your Order will be ready for 3:30 pickup this Friday," it is INCORRECT).
Signup for an hour time-slot via the link sent in your confirmation e-mail so we can spread out everyone's pickup time.
Come visit the farm, pick up your food at our Farm Stand via our "walk-up" window or our curbside pickup loop, and head back home for a delicious meal, no fuss!
Meals will be refrigerated in the Farm Stand prior to pickup in accordance with the health codes. Just reheat in your kitchen!
During the warm season, our farm stand offers refreshments, our organic produce, farm fresh eggs, local and pasture-raised meat, baked goods, and many other tasty local treats (like honey, maple syrup, jams & more!) With our beautiful shady patio, it's a great place to pop by for coffee, a snack after a walk in the woods, or to pick up some ingredients for dinner on the way home. The Farm Stand is open with its full array of products from May – November. The Farm Stand also sells our farm fresh eggs throughout the winter months via honor box.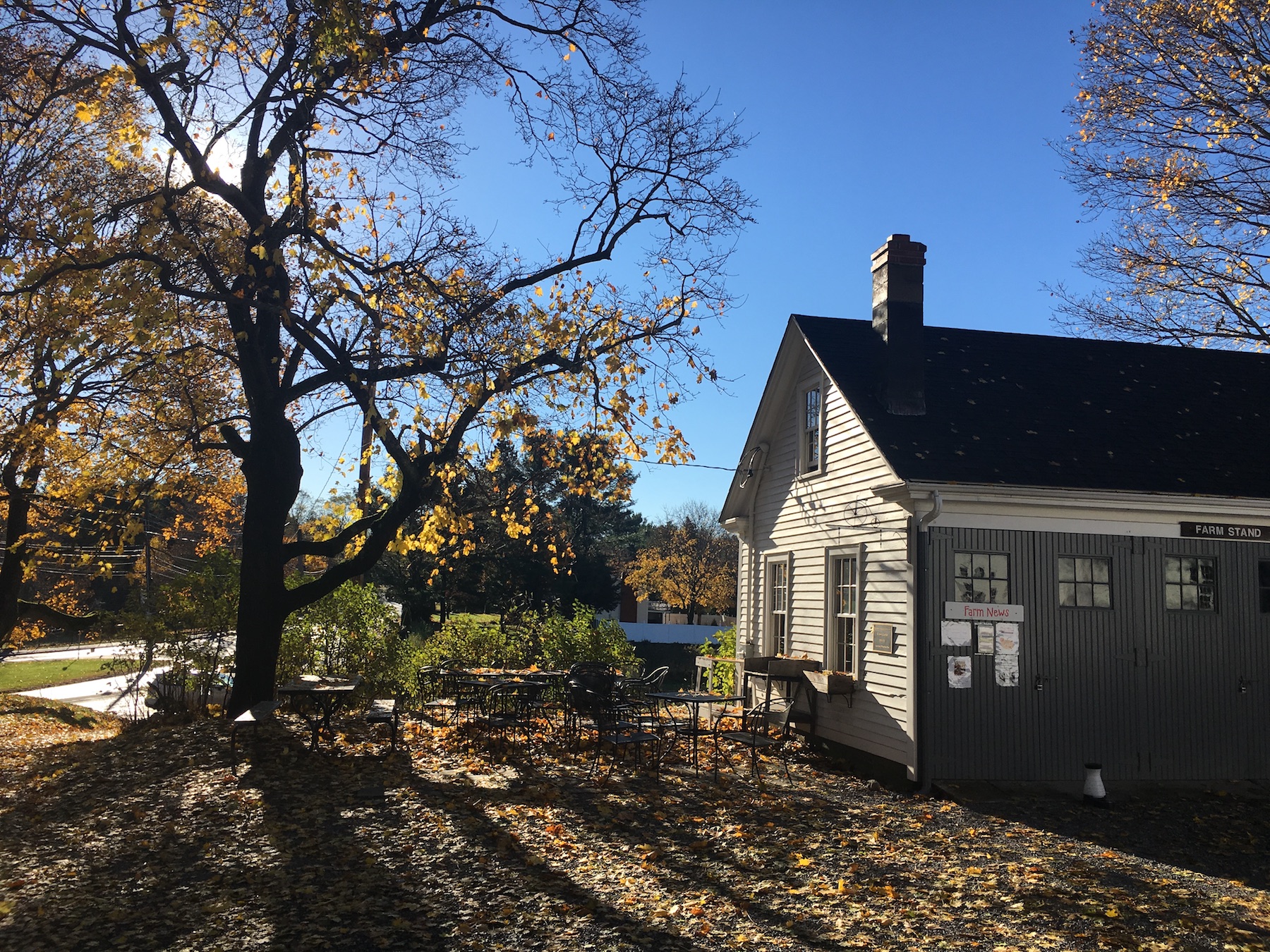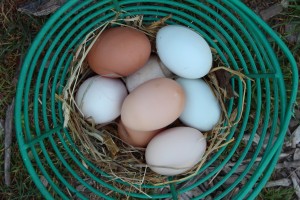 Current Farm Stand Hours
Honor Box Hours: Wednesdays and Saturdays from 9am for as long as supplies last or until dusk.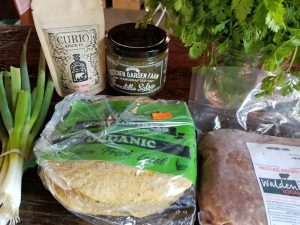 Look at all these great ingredients for local, fresh, flavorful tacos!
We've got the makings for an amazing taco Tuesday dinner, including fresh scallions and cilantro from our fields, freshly baked corn tortillas from Mi Tierra (delivered every Friday), Kitchen Garden Salsa, Curio Spice's "chili today" blend, and ground lamb from Walden Local. Truly delicious tacos in the works here!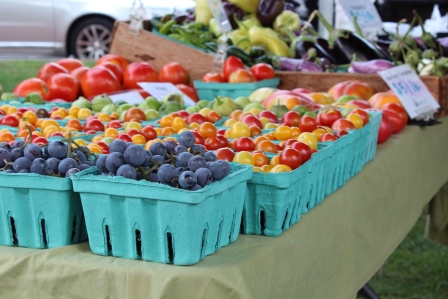 We sell our organic produce at the Lexington and Winchester Farmers' Markets from June – October.
The Lexington Market is held every Tuesday from 2 – 6:30pm at the corner of Mass Ave, Fletcher Ave, & Woburn St. in Lexington, MA.
The Winchester Market is held every Saturday from 9:30 – 1:30pm on Winchester Common.
In November, we sell late fall vegetables and goods during our on-farm Pop-Up Markets and the Winchester Farmers Market Thanksgiving Market.
U-Pick Raspberries are available late August through early October.