Farm to Go, our online farm stand, is available all year long!
Learn more & shop now!
Our Farm Stand is closed for in-person sales.
Please order produce, dairy, meat, and more using Farm to Go.
Our chicken's fresh eggs are available for pickup Wednesday & Saturday starting at 9am, at the Farm to Go entrance of the new All Seasons Barn.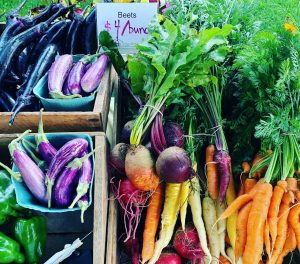 We sell our organic produce at the Winchester Farmers Market from June – October.
The Market is held every Saturday from 9:30 am — 1:30 pm in the Winchester Town Common,
corner of Church Street & Waterfield Rd.
Buy from us all year round through Farm to Go!
Order from Farm to Go, our online farm stand, to enjoy local produce, prepared meals,
and all types of grocery items from great local vendors!
The online store opens each week at noon on Sunday.
Orders can be picked-up Tuesdays, Thursdays & Saturdays.
We accept SNAP/EBT and provide a 10-20% price discount.
Email Farmstand@wlfarm.org to learn more!