During the warm season, our farm stand offers refreshments, our organic produce, farm fresh eggs, local and pasture-raised meat, baked goods from the FULLer Cup, and many other tasty local treats (like honey, maple syrup, jams & more!) With our beautiful shady patio, it's a great place to pop by for coffee, a snack after a walk in the woods, or to pick up some ingredients for dinner on the way home. The Farm Stand is open with its full array of products from May – November. The Farm Stand also sells our farm fresh eggs throughout the winter months via honor box (check back later for "Off-Season" info).
Regular Hours This Season
Wednesday-Friday 10am – 6pm**
Saturday & Sunday 10am – 2pm
**Please note that Fridays during September and October we will be closing early (5PM) to accommodate for our busy events schedule. Sorry for the inconvenience.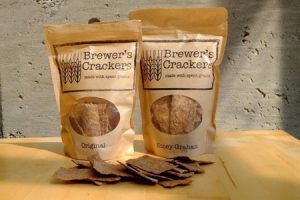 The farm stand crew is super-excited to announce this new product:
Brewer's Crackers are a tremendously tasty snack and the story behind these crackers is what good, sustainable food is all about. Made from the spent grains of beer breweries, these crackers are loaded with goodness, flavor, and sustainable food philosophy! No one tells the story better than founder, Kevin Fiasconaro, and so he shares his vision here,
"As a young cook and forager I befriended brewers and farmers across the country from Long Island to Colorado. I saw that there was a tremendous opportunity to not only capture the flavors of freshly made craft beer but to also do our part in completing the sustainable food chain.

Being surrounded by organic farmer friends and craft brewers influenced my early culinary education by recycling and up-cycling any product I thought was being wasted. This habit quickly became a mission as I met more like-minded people across the country. Eventually witnessing hundreds of pounds of spent brewers grain from a local brewery heading to compost led me to wrack my mind for what could be done to "Eat" that beer. What started out as a small project grew into a passion.

With help from many brewers throughout the country, the past 6 years of testing different grains and beers has brought me to this point of sharing the vision of COMPLETELY using this valuable product to its full nutritional potential"
For more about Kevin and his Brewer's Crackers, click here!
Grab-N-Go Flowers!
During the farming season, keep an eye out for our Grab'N'Go flower bouquets on the benches next to the roadside and our parking lot. If you don't have time to stop and visit the farm, but want a wonderful pop of local color to bring home, then grab a bouquet and drop some cash into our honor box. Fresh Flowers Fast!
Farmers' Markets & U-Pick Raspberries
During the summer and fall seasons (June – October), we also sell our certified organic produce at the Lexington Farmers Market (Tuesdays from 2 – 6:30pm) and Winchester Farmers Market (Saturdays from 9:30am – 1:30pm). In November, we usually sell late fall vegetables and goods during on-farm pop-markets and the Winchester Farmers Market Thanksgiving Market. U-Pick Raspberries are available late August through early October.