Welcome to the Wright-Locke Farm Cooking School! We offer a variety of hands-on cooking classes with both our Farm Chef Kelcy and other amazing food educators in the area.  Adult workshops include time for eating after you finish cooking. Youth workshops pack up their food in to-go boxes to enjoy outside of class.
All classes are hands-on.
Upcoming Kitchen Education Programs
Upcoming workshops
Taste of New England through Cheese and Beer

With Kimi Ceridon, founder of Life. Love. Cheese.


Thursday 5/11 from 6:30-8 PM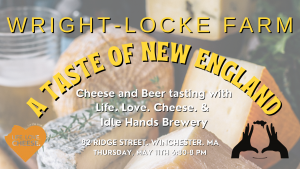 New England and the Northeast have some of the best cheeses in the country….maybe even the world. During this class, we will sample six regional cheeses that highlight the flavors of the Northeast. Each hand-selected cheese – ranging from fresh to funky to blue – is paired with one of Idle Hands Craft Ales beers and an accompaniment from other small artisan and a beer from Idle Hands Craft Ales. As we workout way through the tastings and pairings, we will learn about how milk becomes cheese, how grains become beer and how fermentation works for bother. All the while, we'll discuss what makes great pairings.
About your cheese instructor: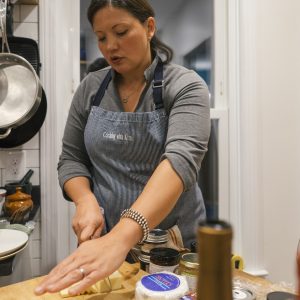 Kimi Ceridon is the founder of Life. Love. Cheese. She spent over a decade in tech before saying "Goodbye" to the cubicle and attending culinary school. She has an MLA in Gastronomy and an Artisan Cheese Certificate from BU. She's also trained in cheesemaking at Sterling College alongside Jasper Hill and is now an artisan cheese instructor at BU. Her company, Life. Love. Cheese. focuses on highlighting American cheese makers and artisans with a special emphasis on the Northeast
About Idle Hands Craft Ales:
Founded by Christopher and Grace Tkach, Idle Hands is a locally focused craft brewery with a penchant for brewing a wide array of styles from classic German style lagers and Belgian inspired ales to more popular IPAs. When we brew a beer, we brew it with uncompromising integrity and with a desire to make the best example of that style possible. Come taste the difference in our greater Boston tap room located in Malden, Massachusetts.
For more information and to register, click here.
Paella with Chef Sawsan
Tuesday 5/23 from 6-8 PM
Join us for an exciting cooking class at Wright-Locke Farm with Guest Chef Sawsan, where you'll learn how to make Paella like a pro! Chef Sawsan, with years of experience and a deep passion for culinary arts, will guide you through the process of making both traditional and vegan-friendly versions of this classic Spanish dish.
The class will begin with handcrafting an authentic romesco sauce, which is an essential ingredient for the perfect paella. You'll learn how to roast bell peppers, toast almonds, and blend garlic, creating a rich, flavorful sauce that will add a delicious depth to your paella.
Next, it's time to prepare the main event! Chef Sawsan will walk you through the steps of making traditional paella with fresh vegetables, rice, and various classic Spanish flavors. You'll learn about the different types of rice and how to achieve the perfect texture, along with the importance of layering flavors for the ultimate paella experience.
Once you've mastered the traditional version, Chef Sawsan will show you how to transform it into a plant-focused, vegan-friendly dish using fresh, high-quality ingredients and smart cooking techniques. You'll explore innovative flavor combinations and learn how to create a paella that is just as delicious and satisfying as the traditional version.
Throughout the class, Chef Sawsan will share her tips and tricks for making perfect paella every time, from how to cook with different types of pans to how to achieve that coveted socarrat, the crispy layer of rice that forms on the bottom of the pan.
By the end of this class, you'll have a newfound appreciation for the art of paella-making and the confidence to recreate this dish in your own kitchen. So, come join us at Wright-Locke Farm for an unforgettable culinary experience with Chef Sawsan and learn how to make the perfect paella!
Class is GF and Vegan Friendly! 
For more information and to register, click here.
Sign up for our newsletter to stay up to date on all the great things happening in the Kitchen.
Fall Seasons Eating: coming in the late fall!
Program meet once per week for six sessions including a final feast.
Join Chef Kelcy at Wright-Locke Farm for her after school program in the kitchen! In this session, she will be welcoming in her students with an apron, a smile, and a wealth of knowledge about foods of the season.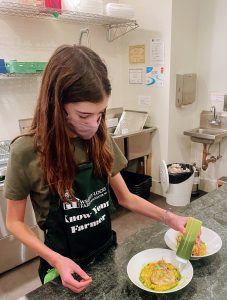 For this six-week program, the students will be spending the first five weeks focusing on a different food color of the season, emphasizing learning more about eating with the seasons and the nutrition behind the shades. Classes will also teach basic cooking skills and techniques to help the students feel comfortable and confident in the kitchen!
Week 6, we will celebrate the bounty of the seasons with the "Seasons Eating Feast" that Chef Kelcy and the student will spend most of the program planning. It will consist of a beautiful meal curated by the children that take all the colors and lessons they learned in the previous five weeks and turns it into a meal that families are invited to come and share with all of us.
Class fee covers cost of food. 
Masks are required at all times unless smelling or tasting our food.
Space is limited and tiered pricing is available. For more information and to register, click here. ~registration opens 1/17 at noon
Summer Farm-to-Table Middle School program
Program meets from 9AM to 12PM on Monday 8/14- Thursday 8/17.
Join Chef Kelcy on the Farm this summer for a unique and inspired Farm-to-Table summer program. Students will spend a portion of each day out on the farm, learning all about what it takes to grow and amazing food we eat every day. We will spend the rest of the program cooking a variety of delicious seasonal recipes and working on developing our basic kitchen still. Students will finish the week with an appreciation of their food and where it comes from along with confidence to recreate all the recipes at home!
Class fee covers cost of food. 
Masks are required at all times unless smelling or tasting our food.
Space is limited, and tiered pricing is available. For more information and to register, click here. ~registration opens 1/17 at noon
Our Family Holiday Cookie Workshops will be back in December 2023!
We have transitioned to a new class registration system!
Please use this link to log in or create an account in the new system.
If you had an account in our previous class registration system:
Select "Forgot your login information?" and check "I need to reset my password." Choose your preferred way of resetting your password (text or email). On the next screen, your username is the email that is associated with our previous registration system. If you have issues resetting your password, please email FarmEd@WLFarm.org
If you did not have an account in our previous class registration system:
Select "New User." Complete the subsequent forms to create your account.
Thank you for your patience as we transition to a new registration system! If you encounter any issues, please contact FarmEd@WLFarm.org with any questions.
Program Terms
Please carefully read these policies prior to submitting your registration. Contact our Education Director with any questions.
Payment & Refund Policy:
Online payments can be made via the following credit or debit cards: Visa, MasterCard, Discover
Those who opt to "pay later" at registration must submit payment at least 2 days prior to a workshop to be guaranteed their spot.
Full tuition refunds minus a $5 administrative fee are guaranteed up to 7 days prior to a workshop.
A 50% tuition refund is guaranteed up to 3 days prior to a workshop.
No tuition refund is given for participant cancellations within 2 days of a workshop or for failure to attend a workshop.
A full tuition refund will be given in the event Wright-Locke Farm cancels a workshop.
Photo & Video Policy:
The Conservancy may take photos and digital video footage of activities throughout the educational program season for record-keeping and publicity purposes. Participant names are never used in connection with these photos or videos.
Liability Statement (Permission for the Conservancy to handle emergencies):
I realize injuries can occur from participation in cooking programs. I hereby waive, release, absolve, indemnify, and agree to hold harmless the Wright-Locke Farm Conservancy, Inc., the Board of Directors, instructors, or assignees, and the Town of Winchester from any claim arising out of injury to myself. Should I [or my child] be taken to the hospital for emergency purposes, I hereby grant permission to the attending physician and staff to administer anesthesia, medical, X-ray, and surgical procedures as may be deemed necessary or advisable.
Due to the close working conditions of the kitchen and lack of windows or easy air ventilation, ALL youth workshops require masks the whole time (unless tasting or smelling) to participate.
Adult workshops are mask optional based on the comfort of the individual. If you have any cold/flu/COVID symptoms, we ask that you please stay home.
Thanks for helping to keep our kitchen community safe! We look forward to seeing you in the kitchen!
Meet Our Farm Chef, Kelcy!
Hello Everyone! It is with great pleasure and honor that I introduce myself as the Farm Chef and Kitchen Manager for the Wright-Locke Farm All Seasons Barn! I am so grateful to be apart of this amazing farm and working with some seriously passionate people.
One of the best parts of working at a farm is thinking about delicious ways to eat the food we grow and sell! Click here for some of our favorites. Let us know what you think!
You never know where a coffee shop conversation will take you. 
This past weekend I was enjoying some coffee when a woman came by to pet my pup, Lilly. We started talking and, no surprise, the conversation turned to food and culture. Born in India, Soumita was quick to start talking about the food of her country and as soon as I shared with her that I was planning on making Saag Paneer that evening for dinner, she lit up! We started discussing cooking methods, how to make different Indian breads and then moved on to the subject of the paneer. For those who don't know, Paneer is an Indian cheese that has a very low melting point and is perfect for soaking up all the yummy flavors of whatever sauce you throw it in. Soumita was kind enough to share with me the perfect method for making sure your paneer is the best it can possibly be; soak the paneer in warm salt water for 5-7 minutes to soften it up and then give it a quick fry to caramelize the sugars before tossing it into your sauce. It is sure to absorb the flavors that much more and, in her own words, "everything comes back to life in water."  I, for one, am super excited to try out this new cooking method and am so grateful to Soumita for sharing her wisdom. 
Happy cooking friends! 
~ Chef Kelcy 
This past week I had the pleasure of hosting the first in-house farm supper at Wright-Locke Farm;
it was one of the highlights of my life! I have always dreamt of hosting a large farm dinner and each aspect of it lived up to that dream. I worked with 10 different local farmers and suppliers (including our own farm and farm-to-go) and the love and passion all these people feel for the food and products they provide can be tasted in every single bite. I was able to feed 31 guests a delicious 3 course meal and knew that everything they were eating was not only delicious, but also supported the mission of local farms and eating in season. Plus, I finally got to see what 10 cups of dry Arborio rice looks like once it's all cooked up, a MASSIVE amount that still shocks me. All along I felt a sense of gratitude for being in this space and having the ability to follow my dreams. If you didn't get a chance to try it out yourself, have no fear, more dinners are on the way!
Happy cooking friends!
~ Chef Kelcy
Fall programming is up and running at the farm and so is the kitchen!
I've been making snacks for our pre-school program, and am SO excited to be feeding our little explorers healthy and seasonal snacks! Vegan carrot cake cookies were a huge hit, and delicious raspberry bars with our own WLF raspberries! I would love to hear from all of you about some favorite snacks you feed your family. Feel free to share recipes and ideas with me at
farmchef@wlfarm.org
Stay tuned for more information on cooking classes coming out of the Farm Kitchen.
Happy cooking friends! ~ Chef Kelcy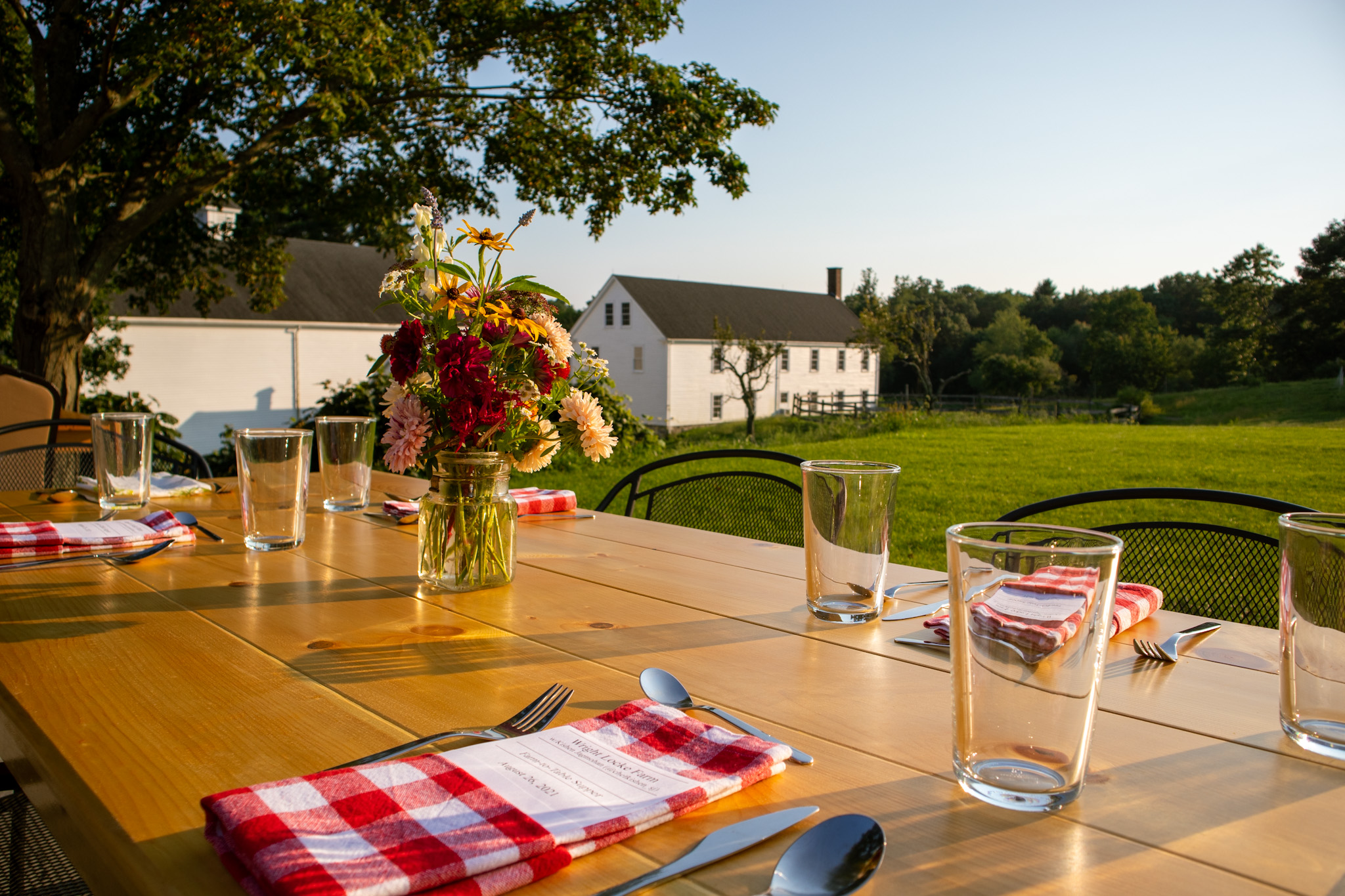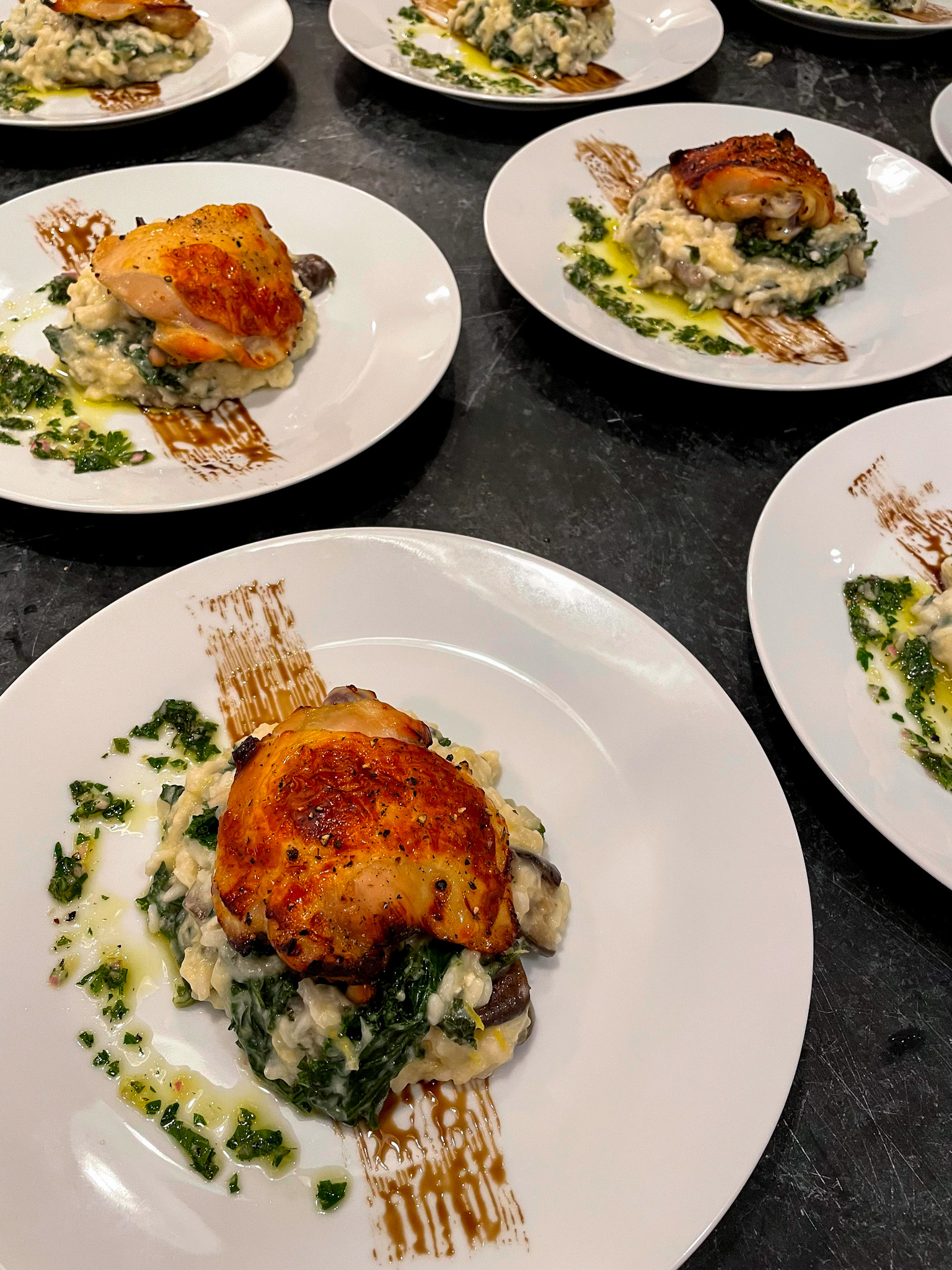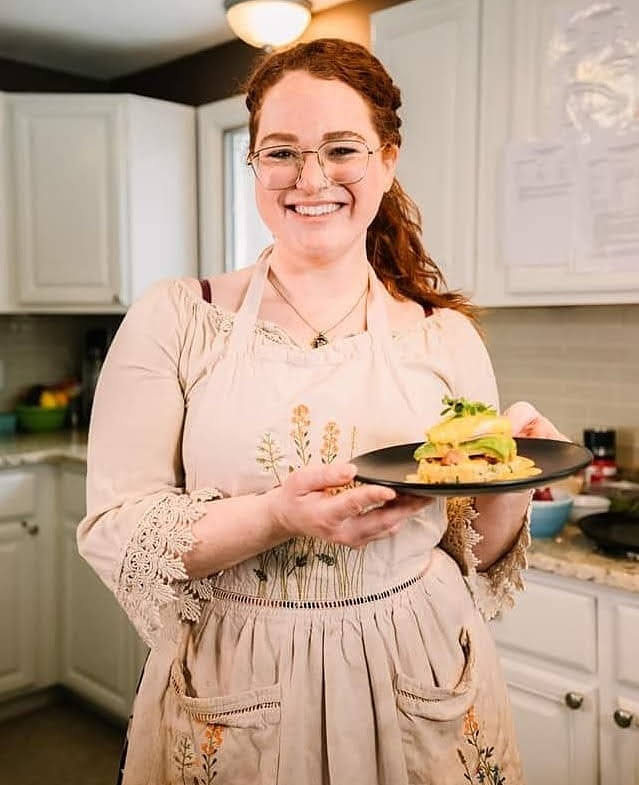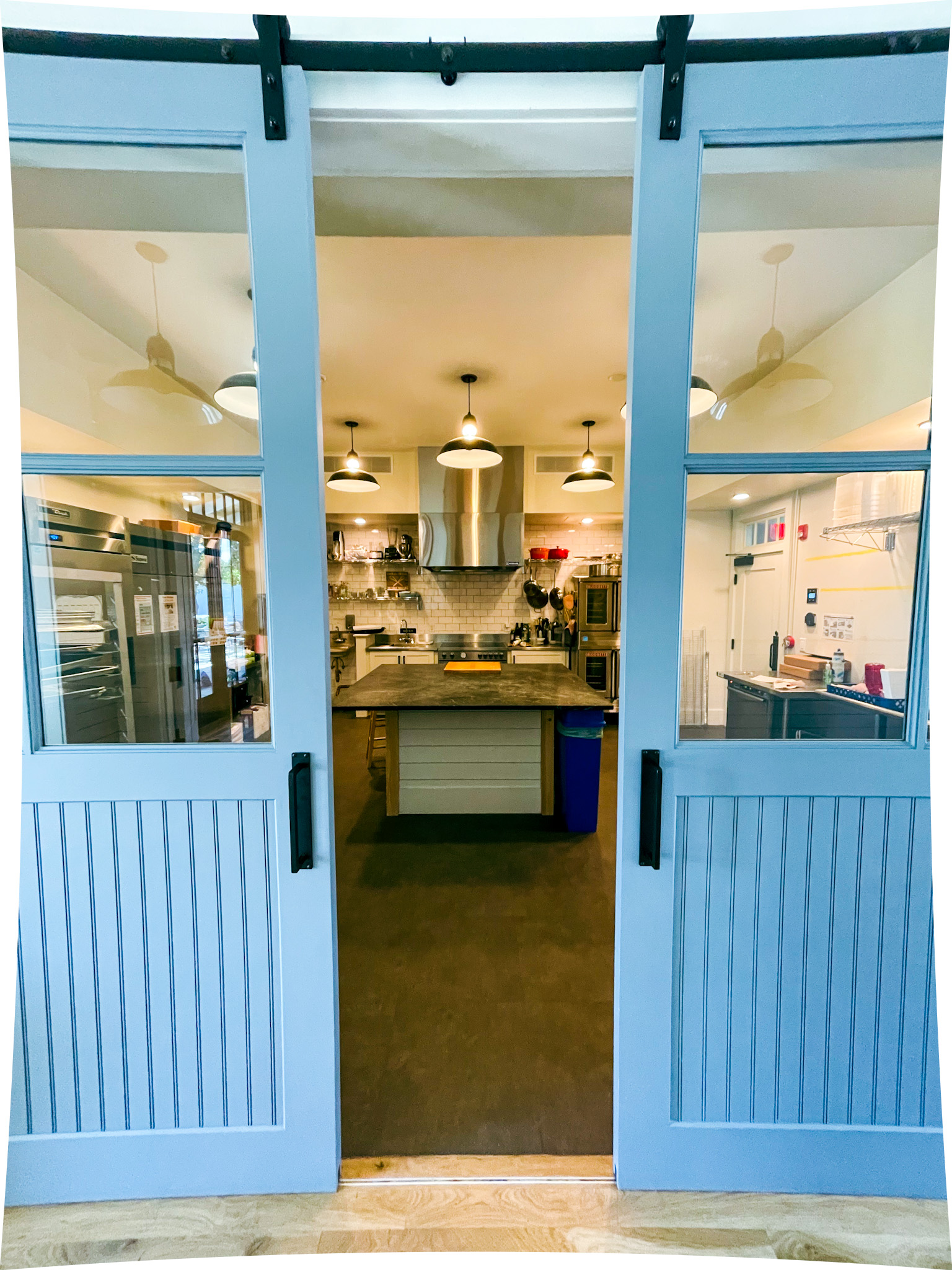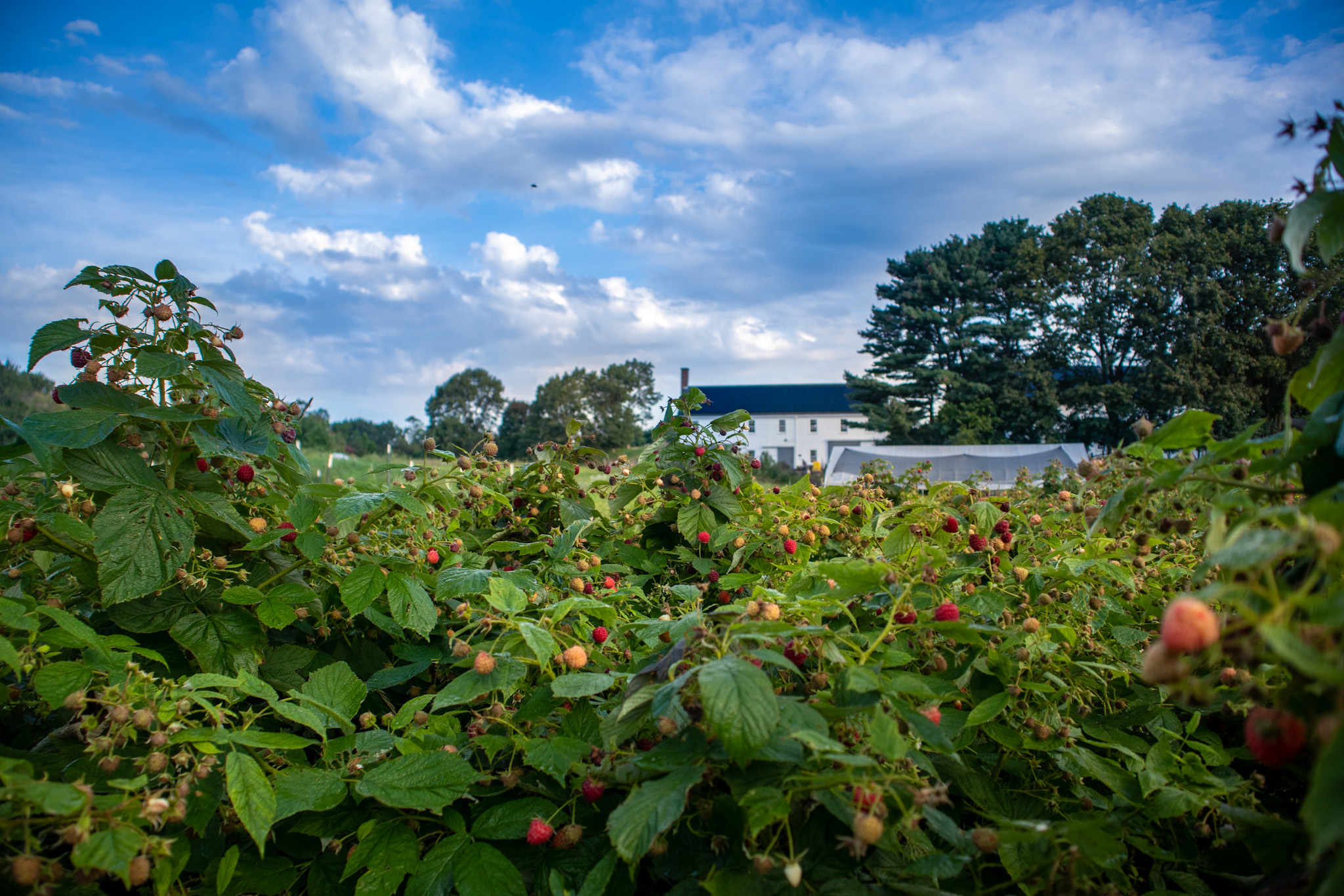 More upcoming workshops and events will be listed soon!
Email FarmChef@wlfarm.org with questions or for more information.
Want to stay up-to-date on farm happenings? Sign up for our e-newsletter.
Looking for our special events listings? Click here!