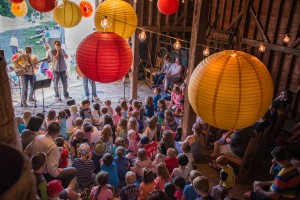 We are excited to bring back the Family Farm Night series Lettuce Turnip the Beet again this summer at the Farm.
Late afternoons and early evenings at the Farm with the sun setting in the west can be truly magical. Our Family Farm Nights are the perfect easy outing at the end of a summer day. Scheduled for seven Thursdays starting on June 18th, each evening has different musical entertainment (see schedule below). All events are free and open to the public. Donations are always gratefully accepted. Events are rain or shine (if it rains, we'll be in the 1827 Barn).
Families can either pack their own picnic or pre-order your boxed picnic from the Piantedosi Bread Shoppe Picnic Menu (click HERE to learn more). Pre-ordered picnics must be ordered by Wednesday at 5pm. We will also have a cash bar each week.
Come to the Farm around 5:30 to walk around, visit with the chickens or pet a goat.  Dinner arrives at 6:00pm and entertainment starts around 6:15. Bring a blanket or some lawn chairs and your favorite refreshments. See below for details on each event.
2015 Family Farm Night Schedule

Thursday, June 25th: Alastair Moock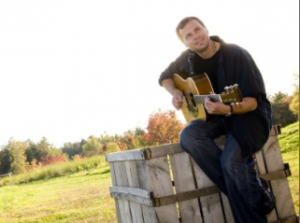 Nearly twenty years into his performing career, Grammy-nominated local songwriter Alastair Moock  celebrates the roots of American music with audiences of all ages and genres. Like his boyhood hero, Woody Guthrie, Moock believes in the power of music to reach all people — young and old, far and wide, for all occasions.
Thursday, July 2nd: Square Dancing with Tony Parkes
Put on your dancing boots and don your cowboy hat! Professional caller Tony Parkes is back with his music and will teach square dancing and line dancing that will be fun for the entire family!
Thursday, July 9th: Underground Blues Band
Blending blues, rock and country, Underground Blues Band (UBB) offers a rich, rocking sound with a repertoire of songs ranging from Stevie Ray Vaughn, to Etta James and Eric Clapton. Fronted by soulful singer and pianist Leni Webber, guitarists Tom Pulkowski and Mark Tavano add searing guitar solos which pay tribute to blues greats like B.B. King and Johnny Winter. Pat Kaufmann on bass and Roy Normandeau on drums keep this band rockin' and rollin'. UBB has played at Johnny D's, Ryles and Terry O'Reilly's Irish Pub. From their lively, rhythmic blues songs to their stirring blues ballads this band is not to be missed.
Thursday, July 16th: Chris & Meredith Thompson

Chris & Meredith Thompson are "powerful performers with a natural warmth for the live concert stage" writes Tom Lounges in the Best. Best known for the unique blend of their nearly identical voices, Chris and Meredith weave vocals, flute, guitar and percussion together creating a sound that is genuine, beautiful, and moving. These identical twin sisters grew up down the street from Stone Soup Coffeehouse in Providence RI. They played their first show at Stone Soup in 1992, and have since played in venues across the US and released six albums. Chris plays percussive, riff driven guitar. Meredith plays authentic Latin rhythms on congas and adds flute to their sound. The Thompsons link music and stories together to create an engaging, animated performance rich in texture, mood and character. Meredith Thompson (Knight) lives in Winchester. www.cmthompson.com
Thursday, July 23rd: Bluegrass Night with Jake Armerding & Annie Bartlett
The adults will get a kick out of this.  Featuring Jake Amerding and Winchester's own Annie Bartlett on fiddle, this duo can really cut it up!  www.jakearmerding.com  Jake Armerding is a singer/songwriter and multi-instrumentalist who is well-loved on the Boston music scene. The Boston Globe calls Jake "the most gifted and promising songwriter to emerge from the Boston folk scene in years." Growing up in Ipswich, Jake played classical violin, listened to 80′s pop radio, and played fiddle in his dad's bluegrass band Northern Lights. From this eclectic background, he has created an "intriguing musical stew out of bluegrass, pop, folk, and a swipe of blues, nicely blended in a personal and unpretentious way," according to the Santa Barbara News. Jake is a regular on stage at the legendary Club Passim in Cambridge and plays a scorching fiddle in the bluegrass band Barnstar! Annie Bartlett is a classically trained violinist who studied at the New England Conservatory and was principal violinist for the Yale Symphony Orchestra. Annie joins Jake for local gigs, is the fiddle player for Miss Ellaneous, and is a trustee of the Winchester Community Music School where she continues to study classical viola.
Thursday, July 30th: Ben Rudnick & Friends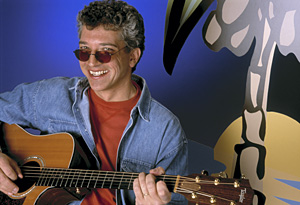 Ben Rudnick & Friends play the hippest family music around. With countless awards to their credit, including SEVEN Parent's Choice awards, their adventurous, high-energy blend of happy, upbeat acoustic music is guaranteed to entertain the entire family. Bending musical styles from country to bluegrass, rock to second-line New Orleans, their original songs and fun takes on familiar tunes make you sing, make you dance and make you happy. Join the fun! Visit www.benrudnick.com for more information.
Previous 2015 Family Farm Night Entertainers include
June 18: Miss Ellaneous