We are excited to bring back the Family Farm Night series Lettuce Turnip the Beet again this summer at the Farm.
Late afternoons and early evenings at the Farm with the sun setting in the west can be truly magical. Our Family Farm Nights are the perfect easy outing at the end of a summer day. Scheduled for seven Thursdays starting on June 18th, each evening has different musical entertainment (see schedule below).  All events are free and open to the public. Donations are always gratefully accepted.  Events are rain or shine (if it rains, we'll be in the 1827 Barn).
Families can either pack their own picnic or pre-order your dinner from Piantedosi Bread Shoppe (details coming soon).  We will also have a cash bar each week.
Come to the Farm around 5:30 to walk around, visit with the chickens or pet a goat.  Dinner arrives at 6:00pm and entertainment starts around 6:15. Bring a blanket or some lawn chairs and your favorite refreshments. See below for details on each event.
2015 Family Farm Night Dates
(more performers to be announced soon!):
Thursday, June 18th: Miss Ellaneous
We can't think of a better way to start off the series than by welcoming back the band Miss Ellaneous to the farm! Just a couple of girls with a passion for music, former college roommates Annie Baker and Kim Miles, were forever searching for the right thing to scratch their musical "itch". While a local pops chorus failed to do the trick, the discussions in the car back and forth from rehearsals ultimately spawned "Miss Ellaneous." Backed by a lovely and talented collection of seasoned instrumentalists (on multiple guitars, electric & upright base, banjo, fiddle & viola, and harmonica), Miss Ellaneous covers everything from pop to blues to bluegrass; creating unique harmonies and putting their own spin on old and new favorites of nearly every genre.
Thursday, June 25th: Alastair Moock
Nearly twenty years into his performing career, Grammy-nominated local songwriter Alastair Moock  celebrates the roots of American music with audiences of all ages and genres. Like his boyhood hero, Woody Guthrie, Moock believes in the power of music to reach all people — young and old, far and wide, for all occasions.
Thursday, July 2nd: Square Dancing with Tony Parkes
Put on your dancing boots and don your cowboy hat!  Professional caller Tony Parkes is back with his music and will teach square dancing and line dancing that will be fun for the entire family!
Thursday, July 9th: Suburban Sprawl
Kick back and enjoy a summer evening with the bluesy tunes from local band Suburban Sprawl.
Thursday, July 16th: coming soon!
Thursday, July 23rd: coming soon!
Thursday, July 30th: Ben Rudnick & Friends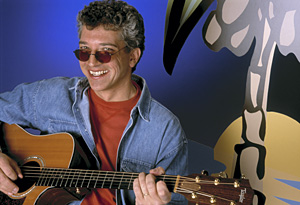 Ben Rudnick & Friends play the hippest family music around. With countless awards to their credit, including SEVEN Parent's Choice awards, their adventurous, high-energy blend of happy, upbeat acoustic music is guaranteed to entertain the entire family. Bending musical styles from country to bluegrass, rock to second-line New Orleans, their original songs and fun takes on familiar tunes make you sing, make you dance and make you happy. Join the fun! Visit www.benrudnick.com for more information.