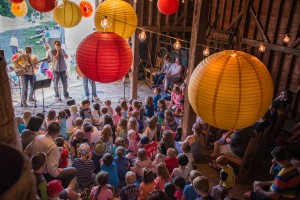 We are excited to bring back the Family Farm Night music series Lettuce Turnip the Beet! again this summer at the Farm.
Late afternoons and early evenings at the Farm with the sun setting in the west can be truly magical. Our Family Farm Nights are the perfect easy outing at the end of a summer day. Scheduled for seven Thursdays starting on June 16th, each evening has different musical entertainment (see schedule below). All events are free and open to the public. Donations are always gratefully accepted. Events are rain or shine (if it rains, we'll be in the 1827 Barn).
Families can either pack their own picnic or pre-order your boxed picnic from the Piantedosi Bread Shoppe Picnic Menu. Pre-ordered picnics must be ordered by Wednesday at 5pm. We will also have a cash bar each week, along with popsicles and popcorn for sale in our newly renovated Farmstand.
Come to the Farm around 5:30 to walk around, visit with the chickens or pet a goat.  Dinner arrives at 6:00pm and entertainment starts around 6:15. Bring a blanket or some lawn chairs, a picnic, and your favorite non-alcoholic refreshments. See below for details on each event.
PARKING: We love how popular Family Farm Night has become! Please note that there are three parking lot options: 82 Ridge Street (50 spaces), Mullen Field (75 spaces), and St. Eulalia's on Ridge Street (100 spaces) — if you drive by Mullen Field or St. Eulalia's on the way to the farm, park there and stroll to the farm. For the safety of all guests and neighbors, there is no parking on Ridge Street during Family Farm Nights.
2016 Family Farm Night Schedule
June 16th:  Miss Ellaneous
June 23rd:  Jake Armerding
June 30th:  Ben Rudnick & Friends
July 7th:   Karen K. & the Jitterbugs
July 14th:  Chris & Meredith Thompson
July 21st:   Willie T & Dr. X
July 28th:  Hank Wonder Trio