Wright-Locke Farm's education programs for teens and adults are a great way to learn practical skills related to healthy living, small-scale agriculture, and the wonders of nature. All workshops take place either in our historic 1827 Barn on the Farm (unheated / not air-conditioned), the woods, or in thekitchen at Saint Eulalia's Parish (50 Ridge Street- right down the street from the Farm) and are open to individuals ages 14+ unless stated otherwise. We hope you can join us for one or more workshops this growing season!
* Please see the important instructions for registering below.

– Summer 2018 –

• Yoga at the Farm
Savor the beauty of the Spring, Summer and Fall with seasonal yoga classes in the historic barn at Wright-Locke Farm.  Local instructor Brittney Burgess (brittneyburgess.com/about) will guide you through a powerful vinyasa flow aimed to create energetic and physical alignment for your mind and body.  Set to the backdrop of the fields, step away from the hustle of everyday life and access the transformative power of movement, stillness and breath.  All levels are welcome. Bring your mat and yourself and soak in the serene setting of the farm! Click on a date to register.
Sunset 

Yoga
: Tuesday Nights 
7:00-8:00 pm
Sunrise 

Yoga
: Friday Mornings 
6:00-7:00 am
• Seasonal Cooking with Chef Mel
Join local chef 
Mel
 Carden for a seasonal cooking class, using fresh ingredients for fast weeknight meals. We'll look to minimize waste and make the most of what Mother Nature has to offer. Recipes will be provided but the class will focus on cooking without a recipe and connecting with our food–even during the chaos of the work week. 
Mel
 will demonstrate recipes for the class and samples will be provided (of course!).
Cost:
$35 per workshop. 
Location:
St. Eulalia's Parish kitchen, 50 Ridge St., Winchester, MA 01890.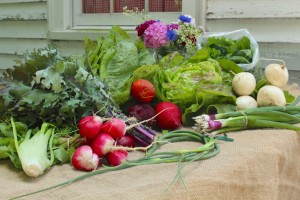 Registration is required. Please click on a workshop date to register:
A personal invitation from Chef Mel:
"It's fun to take pretty photos of our food and post to social media but at the end of the day, I feel that it's more about our personal connection to our food and the joy and deeper meaning that is inherent to creating genuine food for ourselves as well as our friends and family. Join me for this casual (and fun!) demonstration-style class that will help to infuse your weekday meals with flavor and meaning!"
• Stargazing!
Join as we marvel at the evening summer sky. Saturn, Mars, and the Summer Triangle will be among the highlights. The Summer Milky Way will be high overhead. Star clusters and nebulas will be in abundance. Recommended for adults and children ages 8 and up (must be accompanied by an adult). Cost: $10 per person. Registration required.
Friday, September 14 from 7:30-9pm. 
• Forest Bathing Series: There's Poetry in Each of Us (3 guided walks)
Join us as we reveal our inner artistry through the practice of Forest Bathing. Known in
Japan as Shinrin-Yoku, forest bathing is a slow walk in a natural setting that is proven to
have many health benefits. What's not so apparent is the healing power of reconnecting with
Nature through guided experiences that imbues each one of us with an artistic soul. We will
immerse ourselves in the sights, sounds and atmosphere of Nature and take our time to
express our thoughts through written, drawn, or verbal communication. We may choose to
bring a journal, sketch pad, or just talk about our experiences of being in the woods. You
may think you don't have an artistic side to you, but you'll be surprised at what you may discover. Nature will inspire you, give it a chance! Wear comfortable clothing and bring a stool, chair or mat to sit on. Cost and registration info coming soon!
Monday: September 17 & 24 and October 1, from 8am-10am
• Herbalism 
Fall Herbs & Infused Wines
This fun & informative class will cover herbs that are supportive during the fall season, and can be enjoyed in practical, everyday ways. Our fruit-focused workshop will feature three common plants (elderberry, rosehips and hawthorn) with in-depth discussions and tea tasting of each, as well as information about their traditional uses and healing properties. We'll also discuss how to make delicious herbal-infused wines (and sample some!) and each participant will create their own to take home.  Thursday, October 4th from 6:30-8pm.
* * * * * * * * **
Stay tuned! More upcoming workshops will be listed soon!Other summer programs may include the following subjects: organic gardening and composting, "Forest Bathing", seasonal edible and medicinal plant foraging, edible mushroom cultivation, raising backyard chickens and honey bees, wreath making, and culinary skills workshops emphasizing healthy meal preparation and food preservation using local and seasonal foods. 
Email FarmEd@wlfarm.org with questions or for more information.
Want to stay up-to-date on Farm happenings? Sign up for our e-newsletter.
Looking for our special events listings? Click here!
Instructions for Adult Program Registration
1. Log into or create your account via WLFarm.org. Making an account is quick and easy! We just need some basic information about yourself. If you would like to change any of these pieces of information at any time, you may do so by logging into your account.
2. Please be sure to read our Adult Education Program Terms below for more information on our payment and refund policy, photo and video policy, and liability statement.
3. Register for an adult program! Click on the REGISTER NOW! links below to sign up for a program. You will be asked to enter the number of people you wish to register for the program (including yourself or children, if applicable) and enter the first and last names of those being registered in the Guest Information fields. You will be given the option to pay immediately by credit card or to pay later; we recommend opting to "pay later" if signing up for multiple programs so that you may pay for all programs with one credit card transaction at Make Payment (check payment can also be mailed in lieu of credit card payment).
Contact our Education Director with any questions.
Adult Program Terms
Please carefully read these policies prior to submitting your registration. Contact our Education Director with any questions.
Payment & Refund Policy:
Online payments can be made via the following credit or debit cards: Visa, MasterCard, Discover
Those who opt to "pay later" at registration must submit payment at least 2 days prior to a workshop to be guaranteed their spot.
Full tuition refunds minus a $5 administrative fee are guaranteed up to 7 days prior to a workshop.
A 50% tuition refund is guaranteed up to 3 days prior to a workshop.
No tuition refund is given for participant cancellations within 2 days of a workshop or for failure to attend a workshop.
A full tuition refund will be given in the event Wright-Locke Farm cancels a workshop.
Photo & Video Policy:
The Conservancy may take photos and digital video footage of activities throughout the educational program season for record keeping and publicity purposes. Participant names are never used in connection with these photos or videos.
Liability Statement (Permission for the Conservancy to handle emergencies):
I realize injuries can occur from participation in Farm programs. I hereby waive, release, absolve, indemnify, and agree to hold harmless the Wright-Locke Farm Conservancy, Inc., their Board of Directors, instructors, or assignees, and the Town of Winchester from any claim arising out of injury to myself. Should I be taken to the hospital for emergency purposes, I hereby grant permission to the attending physician and staff to administer anesthesia, medical, X-ray, and surgical procedures as may be deemed necessary or advisable.