One of the best parts of working at a farm is thinking about delicious ways to eat the food we grow!
Here are some of our favorites. Let us know what you think!
Sun Tea
From Event Manger Amy Rindskopf
"Yesterday's sunshine got me thinking about summer. And summer means Sun Tea. Sunny days are made for making tea: let that warm sunshine do the work and keep you out of the kitchen!"
Ingredients
tea leaves
glass bottle or jar
sweetener
Preparation:
Place tea leaves in bottle or jar for making tea: one teaspoon for each glass of water plus one for the "pot". Pour clean water over tea leaves, filling to top of container. Cover top of container (lid, plastic wrap, cloth) to keep out bugs and dust and place in a warm, sunny spot. If there is a warm wall behind the tea, so much the better. Leave in the sun for at least 2 hours, but all day is fine: the hotter the sun, the faster the tea brews. The tea is done when it it is the hue you prefer. Sweeten to taste and drink over ice or refrigerate.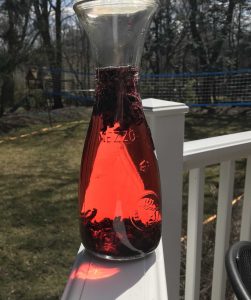 Farm-to-Go Meals
Want another great meal option brought to you by the Farm? Check out our Farm-to-Go Meals. We're partnering with long-time friends, Essex Catering to provide delicious, high-end restaurant-quality meals for half the price for you to grab and take home each Friday. View the weekly menu and order here.