One of the best parts of working at a farm is thinking about delicious ways to eat the food we grow!
Here are some of our favorites. Let us know what you think!
Recipe Highlight: Gazpacho-ish
From our Event Manager,  Amy Rindskopf
"Gazpacho is a classic summer soup: fresh tomatoes, cucumbers and peppers blended together. But sometimes, you don't have the right ingredients. This is my version from the summer veggies I had on hand: tomatoes, zucchini, scallions. Just as delicious, but with a subtle twist!"
Ingredients
2-3 pounds ripe red tomatoes, cored and roughly cut into chunks
2 small/1 medium zucchini, stems removed and cut into chunks
6 scallions, chopped; reserve one for garnish
2 teaspoons red wine or sherry vinegar, more to taste
Salt
½ cup extra-virgin olive oil, more to taste, plus more for drizzling
Preparation
Combine tomatoes, zucchini, scallions in a blender or, if using a hand blender, in a deep bowl. (If necessary, work in batches.) Blend at high speed until very smooth, at least 2 minutes, pausing occasionally to scrape down the sides with a rubber spatula.
With the motor running, add the vinegar and 1 teaspoon salt. Slowly drizzle in the olive oil. The mixture will turn bright orange or dark pink and become smooth and emulsified, like a salad dressing. If it still seems watery, drizzle in more olive oil until texture is creamy.
Strain the mixture through a strainer or a food mill, pushing all the liquid through with a spatula or the back of a ladle. Discard the solids. Transfer to a large pitcher (preferably glass) and chill until very cold, ideally 6 hours or overnight. (Don't have that much time? Serve over ice cubes!)
Before serving, adjust the seasonings with salt and vinegar. If soup is very thick, stir in a few tablespoons ice water. Serve in glasses, over ice if desired, or in a bowl. Sprinkle with scallions and a few drops of olive oil.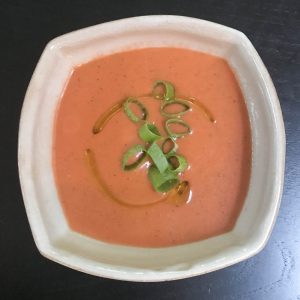 We've taken the Farm Stand Online!
Organic vegetables, prepared meals, breads, dairy, pantry items and more!