In 2017, the Farm started hosting a monthly educational "speaker series". The series of evening presentations aimed to spark discussion and learning around important issues. All topics, while related to the farm, are also highly relevant to everyone in our community, including issues surrounding nutrition, change in the food system, the environment, and creating healthy communities. Sadly, we had to stop in 2020 because of the global pandemic.
Now in 2023, we are delighted to once again to bring people to the farm to learn and connect!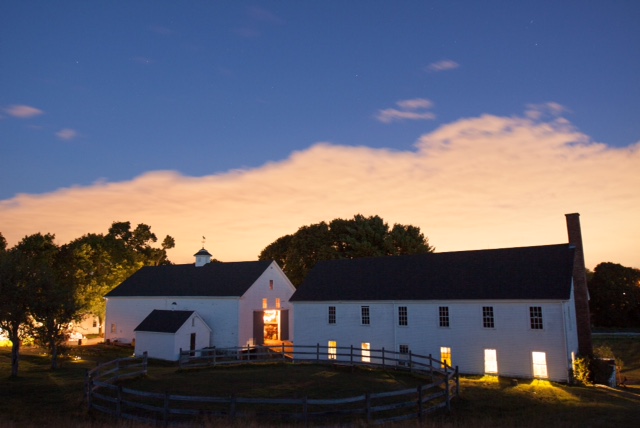 A Few Things to Note About Farm Talks:
– Free and open to the public: everyone is invited to learn here!
– Talks start at 7:00PM, there will be a presentation for an hour, followed by Q&A
– Each session will be recorded and eventually posted on our website so all can rewatch and share!
– Sign-up for the Farm Talks mailing list to stay updated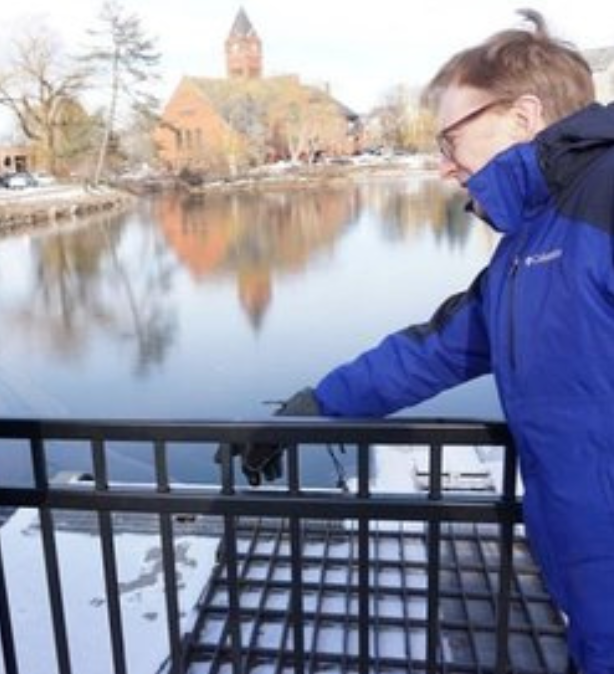 June 1, 7:00pm – 8:30pm  The Rebirth of Winchester's Herring with John Kilborn
After a long period of reduced migration due to dams and pollution, the fish are returning in record numbers, improving the ecosystem and bringing back other wildlife like the birds who feed on them. Join WLF Board member John Kilborn for a fascinating discussion about the installation of fish ladders and cleanups helping to revive our waterways.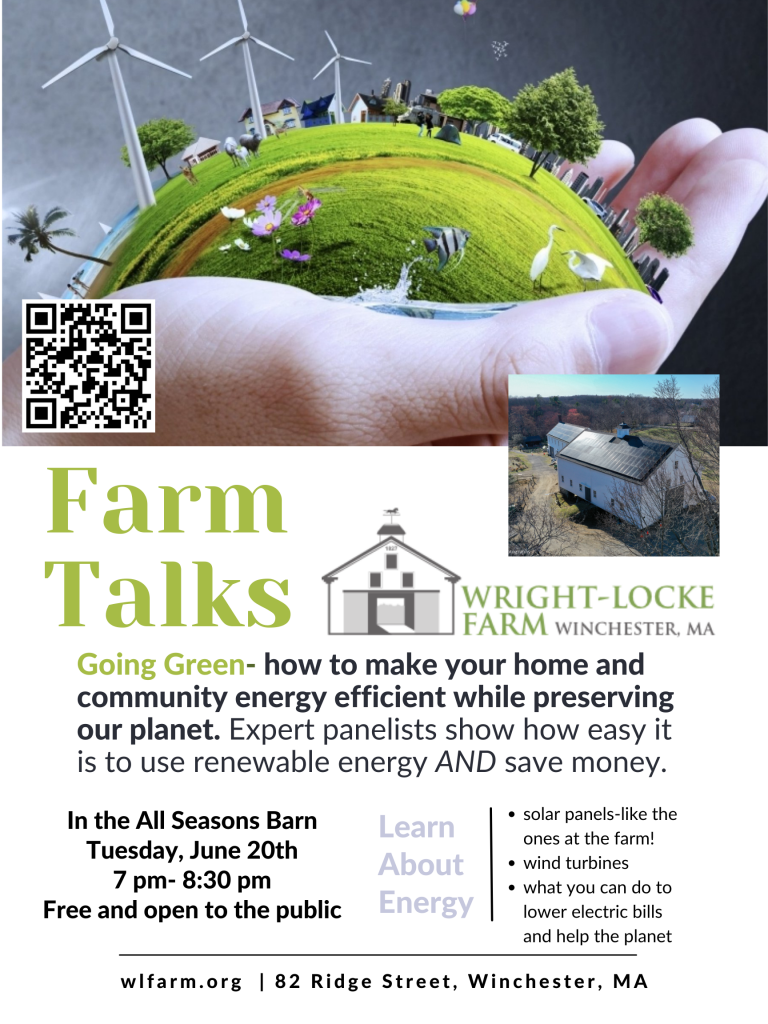 June 20, 7:00 – 8:30pm Panel: Green Communities and Green Households
Get practical tips on how to power your home while saving money and helping the planet!
Panelists: Joanne Bissetta and David Judelson
Moderator: Susan McPhee
Joanne Bissetta: is the Director of the Green Communities Division at the Massachusetts Department of Energy Resources. She started at DOER in 2009 as a Regional Coordinator, working directly with municipal officials and volunteers on Green Communities Designation and clean energy projects and was named Director last year. She possesses over two decades of local and state government experience, having worked at MassDEP, the Town of Concord, and City of Cambridge. Joanne earned a BS in communications at Emerson College and a MA in Urban and Environmental Policy at Tufts University. When not working, you can find her in the garden, on her bike, or tending to her backyard chickens.
Dave Judelson:  I'm a town meeting member here in Winchester, served on the Energy Management committee for many years and have been a long time member of the Sustainable Winchester environmental non-profit organization. I'm proud of having helped get the Community Choice Aggregation program approved through Town Meeting, which has saved local residents and small businesses thousands of dollars on their electric bills, while supporting renewable energy growth here in New England.
After years with my own computer consulting firm, I'm currently working with a local Solar company that has done many residential and small commercial and non-profit solar projects around the area, from here in Winchester to Cape Cod and the Rockport/ Gloucester area.
My favorite project has been putting solar on the two barns here at Wright-Locke farm.
I have a BS in Electrical Engineering and Biology from Stanford, served 2 years as a Peace Corps volunteer in Cameroon, West Africa, and am a competitive masters swimmer.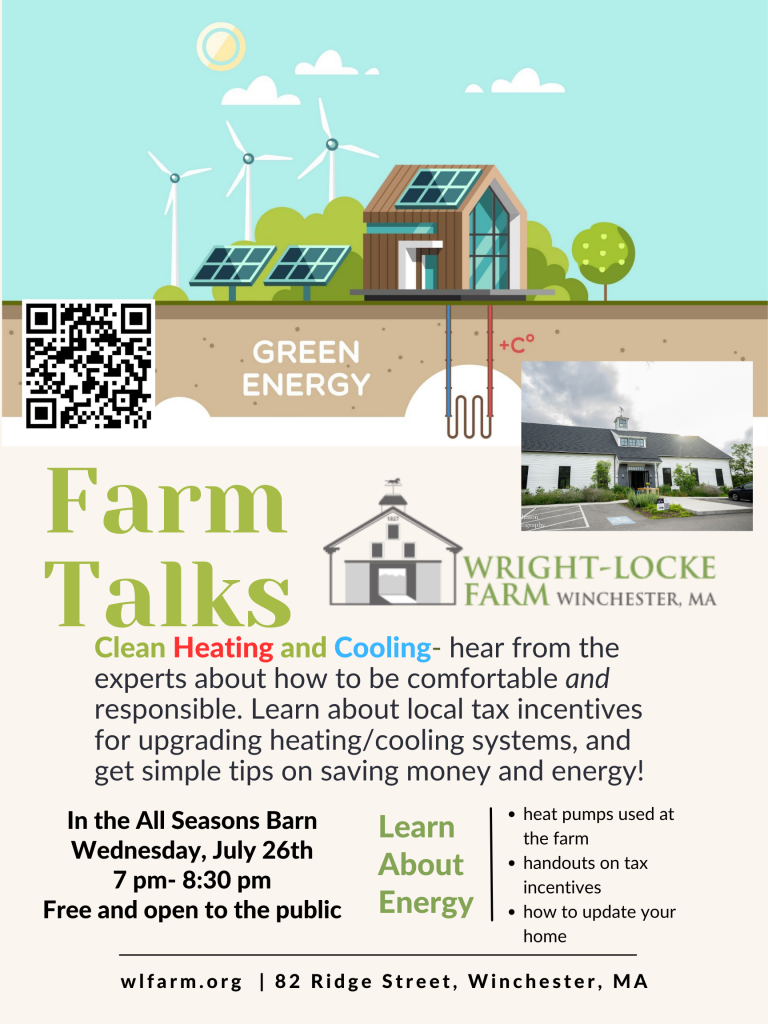 July 26, 7:00pm – 8:30pm Panel: Heat Smart, Clean Heating & Cooling
Learn about alternative heating and cooling methods that will empower you to be comfortable AND responsible.
Panelists: Loie Hayes, Steve Jaslowich, and Ken Pruitt
Moderator: Susan McPhee
Loie Hayes is the Energy Efficiency Coordinator at Green Energy Consumers Alliance. Over the last year, she's given heat pump presentations and one-to-one advice to more than 1,000 people considering electrification projects. She also volunteers as a climate justice advocate in her home city of Boston.
Steve Jaslowich is a Senior Program Manager at National Grid. He is responsible for implementing the Massachusetts 3-Year Energy Efficiency Plan through the Mass Save programs, focused on residential electrification through heat pump adoption. In 2022, over 8,000 National Grid customers received incentives through Mass Save for installing heat pumps.
Ken Pruitt has been Winchester's Sustainability Director since 2021. He previously worked as Energy Manager for the Town of Arlington, Director of Conservation for the Town of Boxford, and as Executive Director of both the Massachusetts Association of Conservation Commissions and the Environmental League of Massachusetts. Ken has been a Winchester resident since 2010 and, since 2014, an elected member of Town Meeting.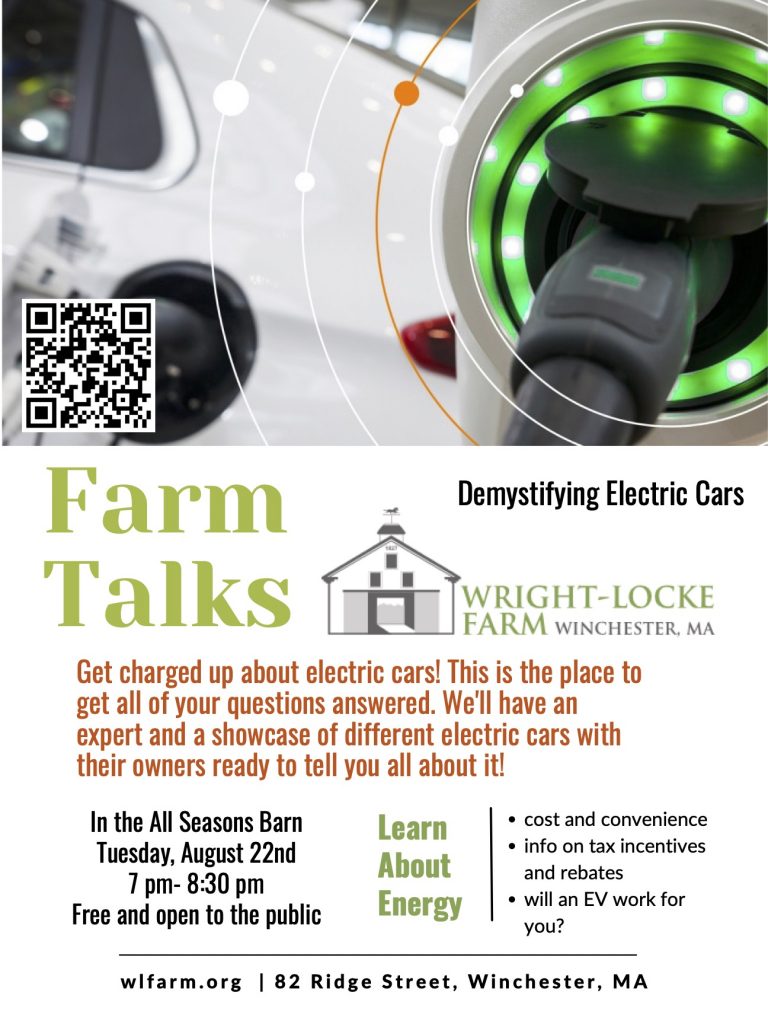 August 22, 7pm – 8:30pm Panel: Electric Vehicles
(6:30-7pm EV Showcase)
Come check out some EVs at 6:30 in the All Seasons Barn parking lot!
Parking: parking will be limited at the ASB so please plan on parking at Mullen Field (54 Ridge St.) and walking from there.
Demystifying driving electric! Hear from experts and owners about a variety of electric vehicles (EVs) on the market and get your questions answered! There will be a showcase of EVs (including EV lawn care) at the All Seasons Barn; their owners/drivers (and dealers from Bonnell Ford and Mirak Hyundai) will be available for any questions you may have.
Panelists: Anna Vanderspek and EV owners
Moderator: Susan McPhee
Anna Vanderspek is the Electric Vehicle Program Director at Green Energy Consumers Alliance, a local nonprofit working to speed the transition to a low-carbon future. Since 2016, she has run the Drive Green program, which educates consumers about electric cars and connects them with dealerships across the state to go electric. In addition to program work, Anna advocates for clean transportation policies at the state level.
For Recordings from Previous Years…