One of the best parts of working at a farm is thinking about delicious ways to eat the food we grow!
Here are some of our favorites. Let us know what you think!
Royal Cottage Pie
From Amy Rindskopf, Event Manager
"Everyone has probably heard about Shepard's Pie: ground meat and veggies with mashed potatoes on top. Cottage Pie is Shepherd's Pie made with beef (shepherd's pie is supposed to use ground lamb). What makes this pie royal? Purple mashed potatoes, of course! It's a great Sunday meal with leftovers for Monday lunch. You can also get everything done in under an hour, so it works during the week, too."
Ingredients:
Mashed Potatoes:
1-2 pounds of purple potatoes (sub: Yukon Gold potatoes)
kosher salt
3/4 cup whole milk
4 tablespoons unsalted butter
4 tablespoons extra-virgin oil
freshly ground black pepper
Filling:
1 pound ground beef
1 medium onion, peeled & chopped
2 cloves garlic, peeled & chopped
1/2 teaspoon kosher salt
1/2 teaspoon ground pepper
1/2 teaspoon ground cumin
2 carrots, peeled & chopped
1 leek, white part only, sliced (sub: scallions, green garlic)
1/2 cup beef or chicken stock
1 bunch of kale, stems removed & leaves cut into ribbons (sub: any dark leafy green)
Directions:
Preheat oven to 450 degrees. Start potatoes; while they are boiling, start cooking filling. When filling is done, make mashed potatoes and put it all together. Bake for 10 minutes and then eat!
1. Mashed Potatoes: Set a Dutch oven filled 3/4 of the way with cold water on high heat. Add enough salt to make the water taste like the ocean and put in the potatoes. Bring the water to a boil, then reduce the heat to medium. Cook until potatoes are easily pierced,  about 20 minutes. Drain the potatoes in a colander over the sink.
2. Filling: While potatoes are cooking, begin filling. Set Dutch oven over medium heat and add 2 tablespoons of oil. Add the onion, garlic, a sprinkle of kosher salt, and cook, stirring, until the onion has been softened, about 5 minutes. Add beef and cook until broken into small pieces and mostly browned, 5-10 minutes. Stir in salt, pepper and cumin, and cook for one minute.
3. Finish Filling: Add the carrots and leek and cook, stirring, until carrots are soft, about 3 minutes. Add the stock. Bring the liquid to a boil, then reduce the heat and simmer everything for 5 minutes. Toss in the kale and stir until wilted.
4. Finish mashed potatoes: Return potatoes to pot and roughly mash. Add half of milk, butter, and oil, and continue to mash. Taste when butter is fully melted and everything is about the same consistency. Add more milk, butter, or salt as desired.
5. Baking: If there is room in your filling dish, add mashed potatoes on top, smoothing them out. If not, put filling in baking dish and add potatoes on top. Bake for 10 minutes, until hot through and sauce is bubbling. Eat!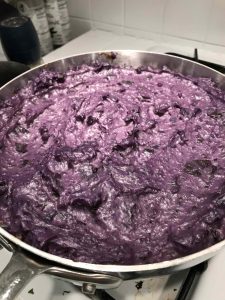 Farm-to-Go Meals
Want another great meal option brought to you by the Farm? Check out our Farm-to-Go Meals. We're partnering with long-time friends, Essex Catering to provide delicious, high-end restaurant-quality meals for half the price for you to grab and take home each Friday. View the weekly menu and order here.