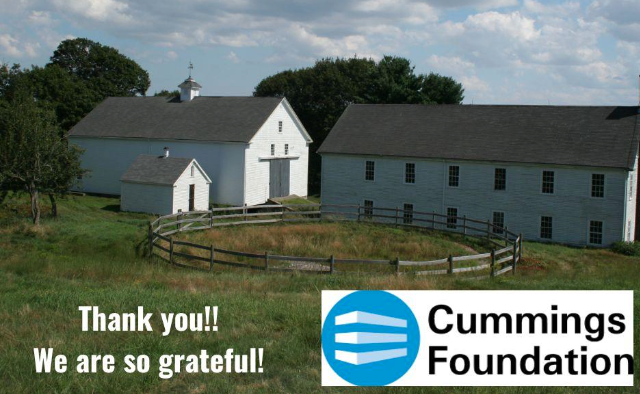 Wright-Locke Farm is pleased to announce it has been awarded a Cummings Grant of $75,000 over three years to assist with funding its tiered pricing program. The Winchester-based nonprofit is among 150 area organizations awarded funding through the Cummings $30 Million Grants Program. 
Wright-Locke Farm is proud of its efforts to make high-quality programming accessible to all. With the addition of the All Seasons Barn, programming has expanded to include cooking classes, a year-round preschool (Forest Friends), expanded youth and adult programming, concerts and speaker events. The generosity of Cummings Foundation will help the Farm reach an even larger audience by offering programming at a reduced price for those who would benefit from it. 
Joyce Vyriotes, the Executive Director of Cummings Foundation says, "Cummings Foundation has been a long-time supporter of Wright-Locke Farm and is pleased to assist in its work to make the Farm more accessible. We recognize how important the Farm is to surrounding communities, and helping broaden its reach is an effort we are excited to join."
Wright-Locke Farm's new Executive Director, Erika Gorgenyi, an integral part of the application process for the grant, says, "Wright-Locke Farm is extremely grateful for the continuing support of Cummings Foundation for our farm and nature-based programming. This, our third grant from Cummings, will enable us to better provide equitable access to our offerings for all participants, helping to remove financial barriers. Ensuring our highly valued programs are available and accessible to everyone is a priority for the farm, and this generous grant propels us forward toward this goal."
Wright-Locke is a small, certified organic farm, open to the public, and is committed to farm-based education, preservation of land and history, and creating a vibrant and healthy community through experiential education, public and private events, fresh, local food, and volunteer opportunities. Learn more at wlfarm.org.
Established in 1986 by Joyce and Bill Cummings, Cummings Foundation, Inc. is one of the largest private operating foundations in New England. Based in Woburn, it has been the beneficiary of substantial contributions from the Cummings family, often through commercial real estate firm Cummings Properties, LLC. Cummings Foundation directly operates its own charitable subsidiaries, including Cummings Health Sciences, LLC and two New Horizons retirement communities. Cummings Foundation's grant-making affiliates primarily support nonprofits serving Middlesex, Essex, and Suffolk counties in Massachusetts. More information is available at CummingsFoundation.org.