One of the best parts of working at a farm is we are always thinking about delicious ways to eat the food we grow! Here are some of our favorites. Let us know what you think!
Kale Salad with Lemon Vinaigrette and Toasted Nuts, from Event Manager Amy Rindskopf
Kale is one of those ingredients that many people aren't sure how to use. It can be tough if you don't cook it. This salad uses lemon juice to soften the leaves just enough, without requiring a massage. And unlike lettuce salads, it will keep in the fridge for a few days! I learned this recipe from Denise Costello.
Ingredients
1/4 cup extra-virgin olive oil
2 Tablespoons lemon juice
1 cloves garlic, minced fine
┬╜ tsp coarse salt
Pinch red pepper flakes, optional
1 bunch curly kale (about 14 oz), ribs removed and leaves sliced into ┬╝-inch shreds
┬╜ cup Parmigiano-Reggiano cheese, finely grated, plus shavings for garnish
1/2 cup walnuts, toasted and finely chopped
Preparation
In a large bowl, whisk together oil, lemon juice, garlic, salt, and optional pepper flakes. Add kale and toss to coat. Let sit at room temperature for 10 to 30 minutes.
Add grated cheese and toasted walnuts and toss.
Garnish with shaved cheese before serving. Cover and refrigerate leftovers up to two days.
Arugula Nettle Pesto, From our Assistant Farm Manager, Diana Shomstein (2019)
I recently made a pesto with ingredients that resemble a basil pestoΓÇô green herbs, oil, nut or seed, citrus, a nutty cheese, and seasoningsΓÇô but reflect what I had in my refrigerator and cupboards without getting anything from the store.
Ingredients
2 cups fresh arugula
2 cups Nettles, blanched
1/3 cup chives, chive flowers, scallions or any fresh allium
A small handful of fresh mint
1/2 cup olive oil
3/4 cup pumpkin seeds (or any seed/nut)
Salt
Pepper
3 tablespoons balsamic vinegar or lemon juice
2 tablespoons nutritional yeast or 1/3 cup any grated hard cheese
Preparation
I started with nettles and arugula as the base for the green herbs, adding a few leaves of fresh mint to lighten and brighten up the flavor. I also included some scallions and chive flowers as they both have distinct and zingy flavors in the allium family that complement the spicy in arugula and the savory in nettles.
I used pumpkin seeds and nutritional yeast for fat and nuttiness. Olive oil brought it together, and then instead of fresh lemon, which I did not have at the time, I used a nice balsamic vinegar for the citrus element. Plenty of ground pepper, and blend it all together. I found that if I needed a little liquid when blending, I could use more oil, or the nettle blanching liquid. Store it in the refrigerator, and use as a spread with crackers, fresh bread, or on cooked grains like kasha or rice.
Kale Tabbouleh, From our Farm Manager, Adrienne Altstatt:
ΓÇ£I love this recipe because itΓÇÖs quick and easy and itΓÇÖs tasty as all h*ck! I have been known to eat it right out of bowl and/or finish half of it in one go. Sometimes I modify it a bit depending on whatΓÇÖs available, but I stick to the bones of it and it doesnΓÇÖt disappoint time and time again. (And I dislike parsley immensely).ΓÇ¥
Ingredients
Γàö cup fine bulgur
3 tablespoons lemon juice
1 shallot, finely chopped
2 teaspoons ground cumin
1 ┬╝ teaspoons fine sea salt, more as needed
┬╜ cup extra-virgin olive oil, more as needed
1 bunch kale, stems removed, leaves finely chopped (5 cups)
2 large ripe tomatoes, diced (about 2 cups)
┬╜ cup torn mint leaves
┬╜ cup diced radish
Black pepper, as needed
Preparation
Cook bulgur according to package instructions. Cool.
In a small bowl, whisk together lemon juice, shallot, cumin and salt. Whisk in olive oil.
In a large bowl, toss together bulgur, kale, tomatoes, mint and radish. Toss in dressing. Season with black pepper and more salt if you like, and drizzle with additional oil if desired.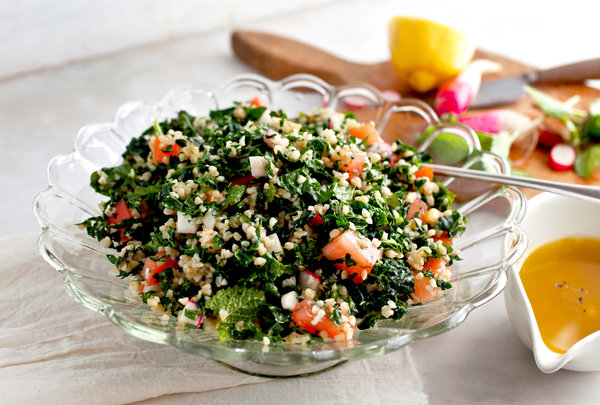 Picture Credit: NYTimes