July 2019 – Written Collaboratively by the Wright-Locke Farm Team
Happy July everyone! Since our minds are on backyard barbeques and all of the delicious produce now coming out of the fields, we wanted to bring you a couple of recipes that we are enjoying right now!
From our Farm Manager, Adrienne Altstatt:
"I love this recipe because it's quick and easy and it's tasty as all h*ck! I have been known to eat it right out of bowl and/or finish half of it in one go. Sometimes I modify it a bit depending on what's available, but I stick to the bones of it and it doesn't disappoint time and time again. (And I dislike parsley immensely)."
Ingredients
Γàö cup fine bulgur

3 tablespoons lemon juice

1 shallot, finely chopped

2 teaspoons ground cumin

1 ┬╝ teaspoons fine sea salt, more as needed

┬╜ cup extra-virgin olive oil, more as needed

1 bunch kale, stems removed, leaves finely chopped (5 cups)

2 large ripe tomatoes, diced (about 2 cups)

┬╜ cup torn mint leaves

┬╜ cup diced radish

Black pepper, as needed
Preparation
Cook bulgur according to package instructions. Cool.

In a small bowl, whisk together lemon juice, shallot, cumin and salt. Whisk in olive oil.

In a large bowl, toss together bulgur, kale, tomatoes, mint and radish. Toss in dressing. Season with black pepper and more salt if you like, and drizzle with additional oil if desired.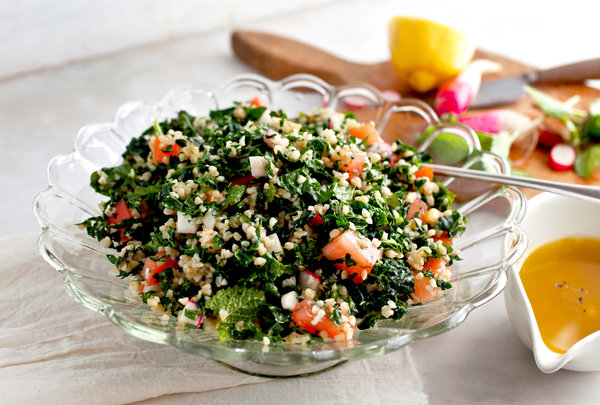 From our Youth Programs Manager, Jack Wright
Here's a recipe that I love! It's for Greek Panzanella. For me, nothing says Summer like this panzanella. My mom introduced me to this recipe at a family birthday party a few years ago and I've been stuck on it since. It's refreshing, nutritious, and absolutely incredible.
I'm a big fan of cheese and bread (who isn't?), so I like to add extra of both of these ingredients! I recommend adding the bread as you serve it so that the bread stays crunchy. This recipe is pretty simple, but looks stunning and tastes SO good. Try it out for your next cookout!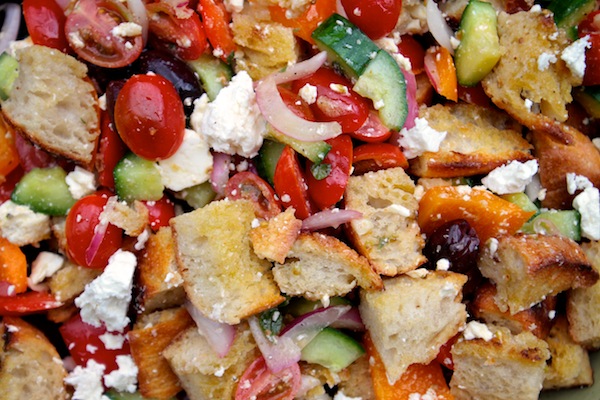 Picture Credit: Shutterbean
Ingredients
Good olive oil

1 small French bread or boule, cut into 1-inch cubes (6 cups)

Kosher salt

1 hothouse cucumber, unpeeled, seeded, and sliced 1/4-inch thick

1 red bell pepper, large diced

1 yellow bell pepper, large diced

1 pint cherry or grape tomatoes, halved

1/2 red onion, sliced in half rounds

1/2 pound feta cheese, cut in 1/2-inch cubes

1/2 cup Calamata olives, pitted
For the vinaigrette:
2 cloves garlic, minced

1 teaspoon dried oregano

1/2 teaspoon Dijon mustard

1/4 cup good red wine vinegar

1 teaspoon salt

1/2 teaspoon freshly ground black pepper

1/2 cup good olive oil
Preparation
Heat 3 tablespoons olive oil in a large saute pan. Add the bread cubes and sprinkle with salt; cook over low to medium heat, tossing frequently, for 5 to 10 minutes, until nicely browned. Add more olive oil as needed.

Place the cucumber, red pepper, yellow pepper, tomatoes and red onion in a large bowl.

For the vinaigrette, whisk together the garlic, oregano, mustard, vinegar, 1 teaspoon salt and the pepper in a small bowl. While still whisking, add the olive oil and make an emulsion. Pour the vinaigrette over the vegetables. Add the feta, olives and bread cubes and mix together lightly. Set aside for 30 minutes for the flavors to blend. Serve at room temperature.
Limonana – frozen mint lemonade
From our Events Manager – Amy Rindskopf
Every summer, the farm staff and volunteers gather for a potluck picnic. We each draw the name of a seasonal vegetable, herb or fruit available at the farm, and make a dish with the bounty. As someone who likes to cook, I often "draw" the harder, unloved choices. One year, I drew mint. While mint is delicious as a flavor and helps boost many dishes, it is a little harder to put it toward the center. Plus, it had been hot for weeks on end and everyone needed a little pick-me-up at the end of lunch. This frozen mint lemonade from Israel was just the ticket!
Servings: 4 servings
Ingredients
1/2 cup sugar (or more to taste)

1 3/4 cups water (divided)

1 cup fresh lemon juice

3 1/2 cups ice

1 cup fresh mint leaves

6 mint sprigs for garnish (optional)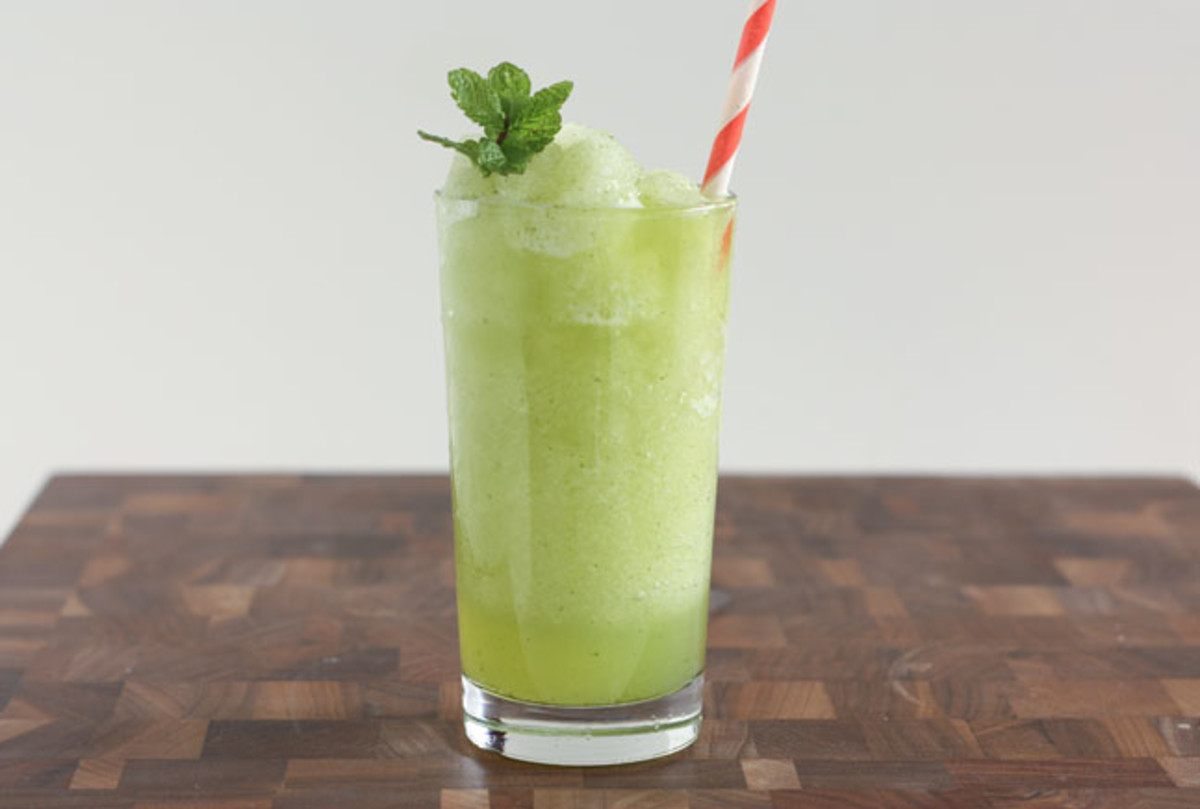 Picture Credit: Jamie Geller
Preparation
Sugar syrup: In a small saucepan, combine 1 cup of water and sugar. Heat over medium, whisking constantly, till the sugar dissolves. Let the water cool to room temperature.

In a blender, combine the sugar syrup, fresh lemon juice, ice, fresh mint leaves and 3/4 cup of water.

Pulse for a few seconds, then blend for 1 minute till the ice is thoroughly crushed and the drink takes on the texture of a thick slushy. Taste. This recipe produces a mildly sweet limonana. Some people like it sweeter. Add sugar to taste, if desired, and blend again.

Pour into cold glasses and serve. Garnish with sprigs of mint, if desired.
A Pesto Trio!
Us farmers love pesto apparently. Here are a couple of riffs on the popular concoction.
From our Farm Stand Manager, Peggy Belanger
One of my husbands favorite kind of pizza is Chicken Pesto pizza, we first ate it at a pizzeria in London and he fell in love with the combination. When we came home from our visit to London I recreated it one night for dinner using this recipe. Molto Delizioso!
Spinach and Garlic Scape Pesto
4 cups fresh spinach

1 lb. Garlic Scapes minced

1 1/2 Grated Parmesan cheese

1 1/2 cups Olive Oil

Salt and Pepper to taste
Preparation
Blend all ingredients in a blender until smooth.
Pesto can be used to toss with hot pasta, or mix with sour cream or mayo and spread on a sandwiches. Can also be used as a dip for your favorite veggies.
Extra pesto can be spooned into ice cube trays and frozen for a later use.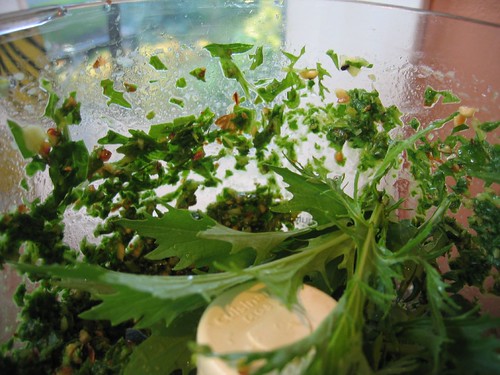 From our Assistant Farm Manager, Diana Shomstein
I recently made a pesto with ingredients that resemble a basil pesto– green herbs, oil, nut or seed, citrus, a nutty cheese, and seasonings– but reflect what I had in my refrigerator and cupboards without getting anything from the store.
Arugula Nettle Pesto
2 cups fresh arugula

2 cups Nettles, blanched

1/3 cup chives, chive flowers, scallions or any fresh allium

A small handful of fresh mint

1/2 cup olive oil

3/4 cup pumpkin seeds (or any seed/nut)

Salt

Pepper

3 tablespoons balsamic vinegar or lemon juice

2 tablespoons nutritional yeast or 1/3 cup any grated hard cheese
I started with nettles and arugula as the base for the green herbs, adding a few leaves of fresh mint to lighten and brighten up the flavor. I also included some scallions and chive flowers as they both have distinct and zingy flavors in the allium family that complement the spicy in arugula and the savory in nettles.
I used pumpkin seeds and nutritional yeast for fat and nuttiness. Olive oil brought it together, and then instead of fresh lemon, which I did not have at the time, I used a nice balsamic vinegar for the citrus element. Plenty of ground pepper, and blend it all together. I found that if I needed a little liquid when blending, I could use more oil, or the nettle blanching liquid. Store it in the refrigerator, and use as a spread with crackers, fresh bread, or on cooked grains like kasha or rice.
From our Field Assistant, Tori Dahl
One of my favorite recipes is to chop up all of my veggies, steam them for a few minutes, and then mix in my latest pesto (you can use your favorite recipe, my go-to is basil and spinach with cashews, see approximated recipe below). Add some canned Alfredo sauce and serve on it's own or with your choice of grain: pasta, quinoa, rice, you name it!
Basil Spinach Pesto
1/4 cup cashews

1 cup basil

2-3 cups spinach (to taste)

2 Tablespoons olive oil (more if desired to smooth out texture of pesto)

Parmesan cheese if desired to taste

Salt to taste
Pesto is great because there are so many ways to play with it based on what is in season!
Try kale instead of spinach. Substitute garlic scapes for basil. Try a new nut or mixture of nuts.
Add a different spice or seasoning- like rosemary or lemon juice.
It's almost impossible to go wrong! Enjoy!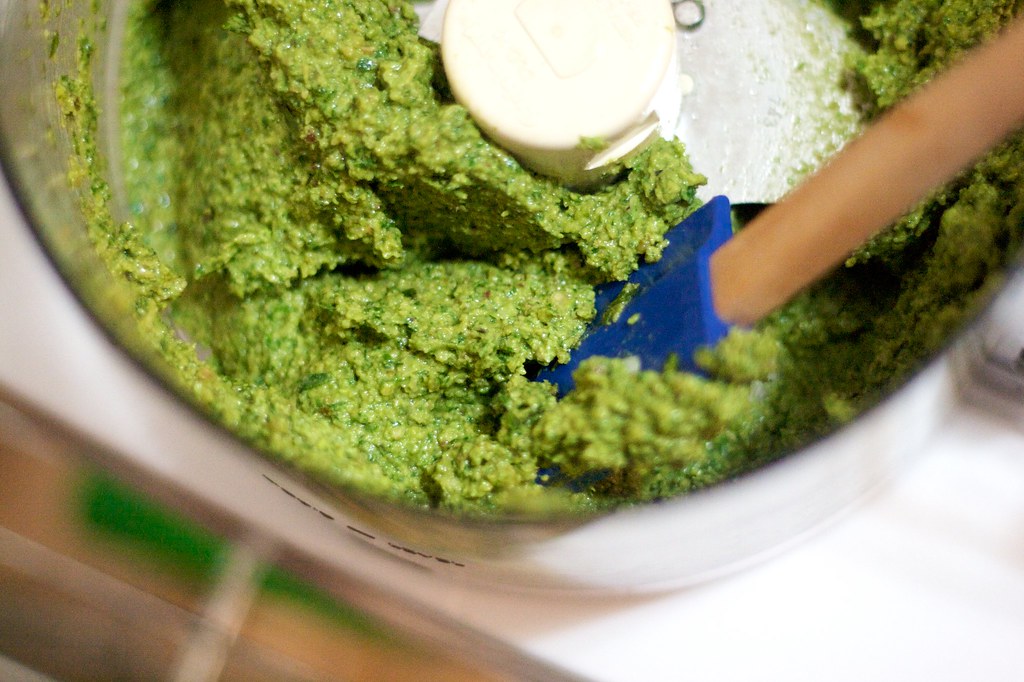 From Community Engagement Manager, Kim Kneeland
One of my all time favorite dishes isΓǪ. well anything smothered in peanut sauce. It hits all the right notes — itΓÇÖs creamy, tangy, a bit spicy, a bit sweet, and salty, too. Plus itΓÇÖs really versatile! Dip carrots in it for simple snacking, or do a big veggie and noodle stir fry. Use it to coat chicken skewers on the grill, create your own spring rolls and use it to dip, or make a chilled salad with zucchini noodles, toss with some peanut sauce, and top with some cilantro.
Plus IΓÇÖve got the added bonus that my Fiance loves the dish, since it really brings him back to his childhood memories with his mother and stepfather (back when times were simpler and full of fun). When I made this recipe recently, he declared that this was the best peanut sauce heΓÇÖd had in decades, tears welling in his eyes (OK, maybe IΓÇÖm being overdramatic, those tears may have been imagined). But regardless, this is good stuff!
Ingredients
1/2 cup peanut butter
1/3 cup low sodium soy sauce
1/3 cup sesame oil (toasted or dark)
1/4 cup rice vinegar
2 tablespoons chili paste (sriracha works, too)
2 tablespoons sugar
a small knob of fresh ginger, peeled
a clove of fresh garlic, peeled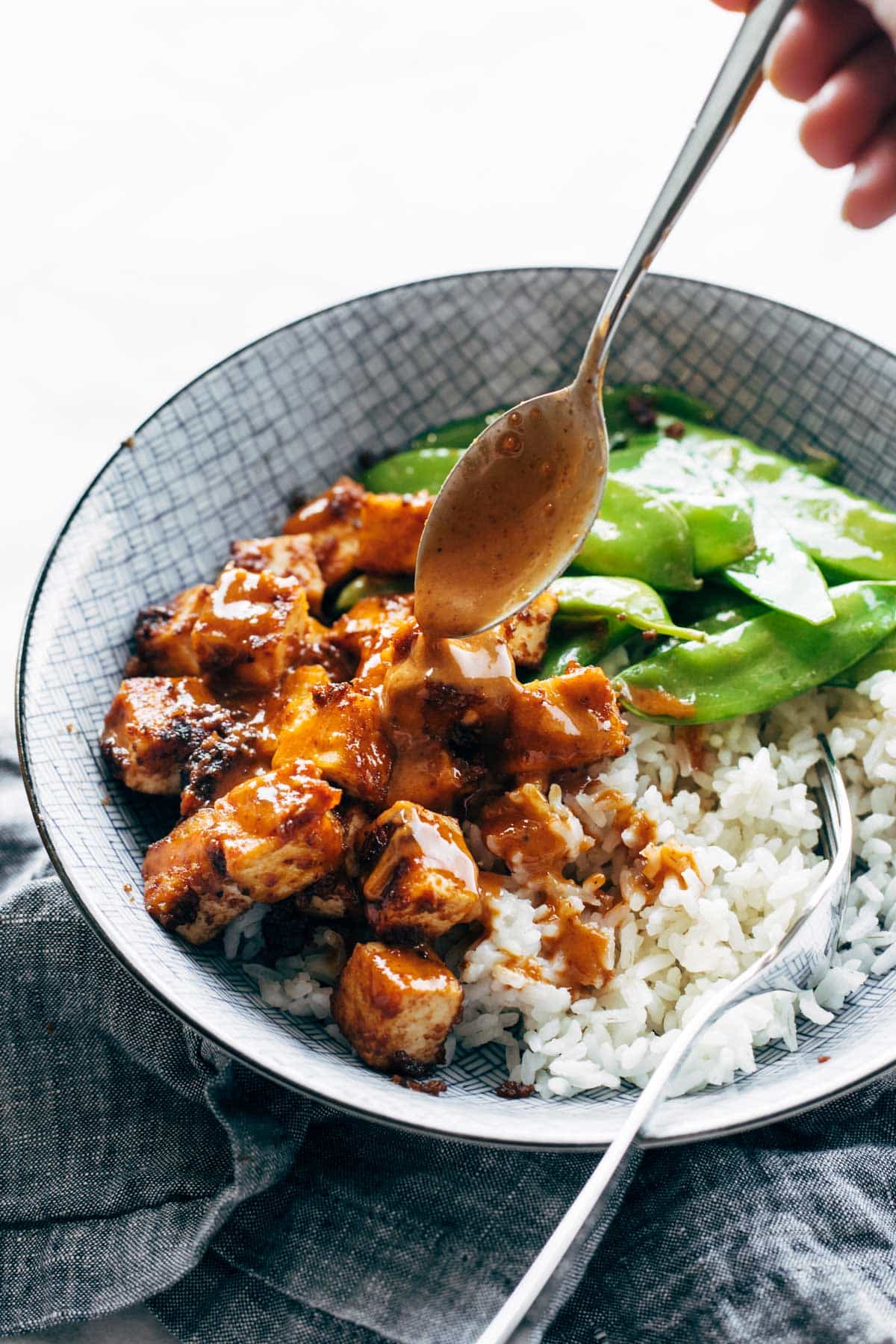 Picture & Recipe Credit: pinchofyum.com
Preparation
Blend all the sauce ingredients together in a small blender or food processor until smooth and creamy.
Find everything in your house that can be dunked in this ridiculously good sauce and then get to work.
Right now, this it what I'd toss together from the farm in a stir fry.
Snap Peas
Garlic Scapes
Zucchini
Kohlrabi
Radishes
Braising/dark greens like mustard greens, the farm's "Spicy Greens Mix," or spinach