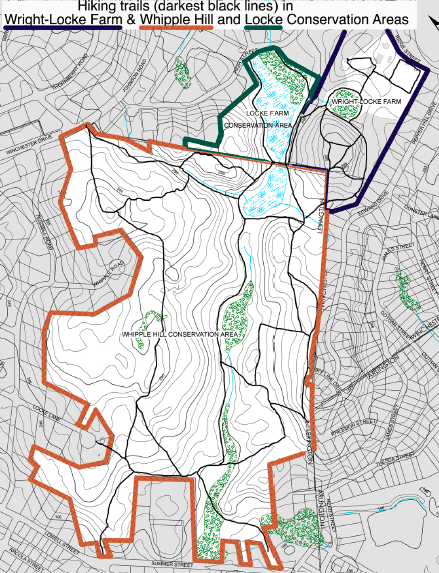 There are lots of terrific trails to hike, right from Wright-Locke Farm. You can walk through quiet woodlands, watch the changing sky reflected in lovely ponds and wetlands, or climb Whipple Hill, which is the highest point in Lexington. Come access these trails from Wright-Locke farm anytime of year.
Please note that the Farm does not plow the 82 Ridge Street parking area, so on-site parking may be limited during the winter and early spring season. Additional nearby parking includes Mullen Field and Saint Eulalia's Parish.
Our public restrooms are not open during the winter season.
This image shows the trails on Wright-Locke Farm (blue area in upper right corner), in the Locke Farm Conservation Area (small green boundary), and the 120-acre Whipple Hill Conservation Area (within the orange boundary).
Here's a printable PDF map of the Wright-Locke Farm trails and nearby conservation area trails.
Visit the Winchester Trails website for more background on the Farm's and the conservation area hiking trails.