Order organic produce, prepared meals, and all types of grocery items from great local vendors through Wright-Locke Farm! In an effort to provide good, local food to our community in a safe and responsible way, we've taken our Farm Stand online.
How does it work?
Once you have an account in our online system, each week you can log in and see what's available for Farm-to-Go.
We'll send out weekly updates and reminders of order windows for each market day in our Farm newsletter.
Shop for good, local food! Order as much or as little as you need for that week ($10 minimum).
Confirm your cart before orders close for your market day
Pickup your order via our safe and contactless pickup systems and enjoy!
Payments will be processed after pickup
We accept SNAP/EBT at all locations and provide a 10% price discount. Email Farmstand@wlfarm.org to learn more!
Click this link and follow the registration instructions below:
Create a customer profile with your email address and preferred password – click "Create Account." You will be directed to another detailed registration screen.
Ignore the "Organization" field, you do not need to fill this in.
Choose your default "Customer Distribution Location"

depending on the location and day you plan on picking up your orders most weeks

(

Example:

Winchester Farmers' Market Pickup OR Thursday Farm Stand pickup).

Don't worry, this option can be changed at anytime and you can order for multiple pickup days/locations if need be during the same week.

Select your preferred payment type for your weekly orders and add a credit card on file. Credit card/EBT are our preferred forms of payment this season.

Saving your credit card in the system will make payment simpler. Credit cards will only be charged after your pickup, to allow for any needed adjustments (specific weights, etc.). Credit card numbers are encrypted; we won't have access to your account numbers.

If you are a SNAP/EBT customer, select SNAP/EBT as your "preferred payment method" – we will process EBT payments at the time of pickup.

Carrot Card funds will be transferred to your account once you login.
Pickup Days and Locations
Wright-Locke Farm Stand
Tuesday Pickup: 2-5pm ** note new times!**

Order between Sunday 12pm – Monday 11:59pm

Available: Earthlands Farm produce (+limited produce from Picadilly and Red Fire Farms) and all other grocery items. Limited availability of Essex Catering prepared meals. No baked goods/bagels/breads from our bakeries are available Tuesdays at this time.

Thursday Pickup: 3-6 pm  **note new times!**

Order between Sunday 12pm – Tuesday 11:59pm

Available: Earthlands and Picadilly Farms produce; Essex Catering's prepared meals; and all other grocery items.

Saturday Pickup: 1-4pm.

Order between Sunday 12pm – Thursday 11:59pm

Available: Earthlands, Picadilly, and Red Fire Farms produce; Essex Catering's prepared meals; and all other grocery items.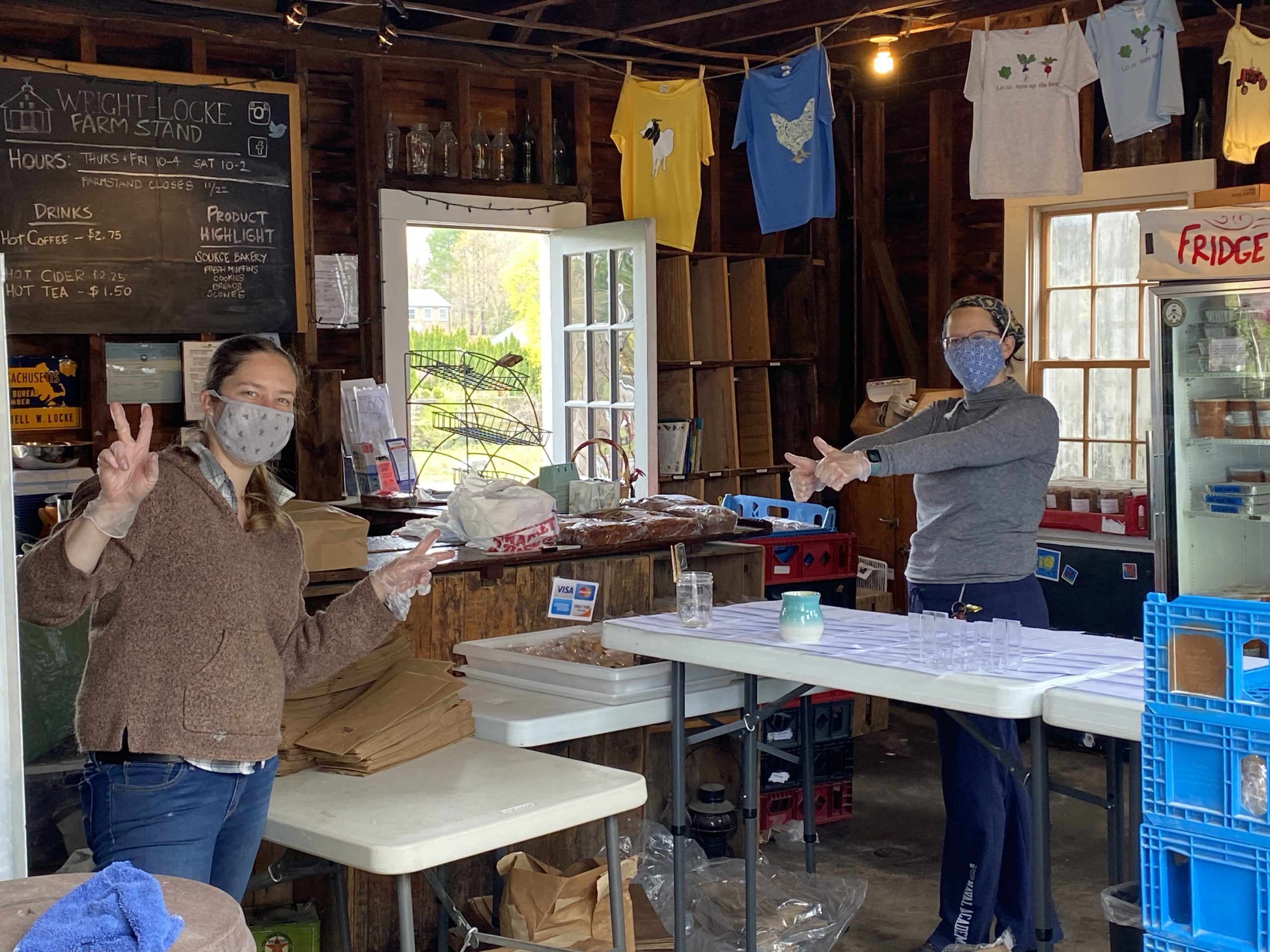 Have more questions or need some help with the system?
or contact us at farmstand@wlfarm.org